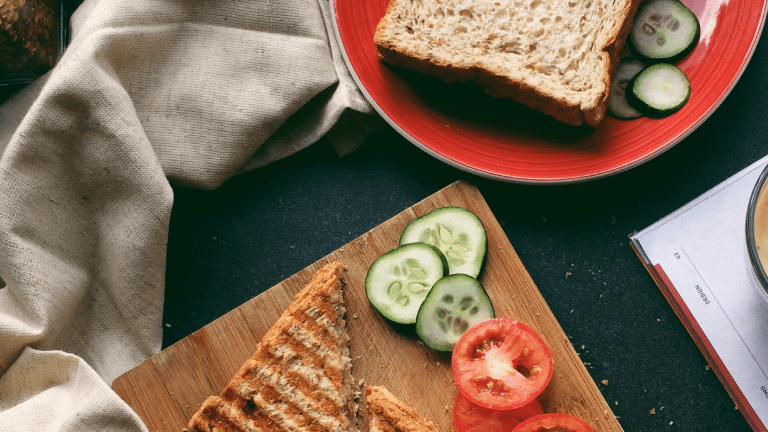 5 Mouth-Watering Grilled-Cheese Recipes
Take this beloved comfort food up a notch with a new recipe that offers a twist on a classic.
I used to think grilled cheese was limited to being a kid's thing and never thought it was either sophisticated nor something I would serve outside of the little people in my family. But my friends, I recently attended a wedding and guess what was served as a passed hors d' oeuvre? You guessed it! Grilled cheese mini bites. These were no ordinary grilled cheese sandwiches sporting white bread and American cheese. I am getting on board with this grilled Cheese trend and think it's a "DO" for summer get-togethers. Two factors are in play in order to make a fabulous grilled cheese. 1. it is all about the bread 2. elevate the fixings= elevate the result.
Related: Inspired hot cocoa recipes
5 Mouth-Watering Grilled-Cheese Recipes
We tried these 5 fabulous grilled cheese recipes and they were all a hit!
1. Grilled Cheese with Bacon and Tomato: a nice twist to the traditional BLT, this was a winner with everyone. (I am not a big fan of bacon, so I subbed in smoked turkey bacon which suited the sandwich just fine.)
2. Veggie Grilled Cheese - Such a FAN of this recipe. The fontina cheese mixed with veggies just puts this at the top of my list. And Brussels Sprouts? Who would have thought it! So good and bonus? the kids oohed and ahhed over it too! 
3. Apple and Honey Dijon: This was a crowd pleaser with the adults, not so much the kiddos which was a surprise to me. It was seemingly similar to what was served at the wedding I attended and I think is a definite "must-try". 
4. Grilled Cheese ala Prosciutto and Provolone - Let's talk about moving the needle on the grilled cheese sandwich. The combo of ingredients here just lends itself to deliciousness. Sweet and savory. This winner has a future over shared cocktails and good laughs.
5. Skewers: We tried these over Memorial Day weekend and I wish I had bought more ingredients because I could not make enough. Skewers scream summer and these grilled cheese numbers did not disappoint. 
Grilled Cheese is tried and true and rarely takes more than 15 minutes from prep to plate. Have a go at this on trend sammy and share your faves with us. 
More Warm Up Recipes from Momtrends
Pin it
Save your favorite ideas on Pinterest and be sure to follow our board Ski Mom Stuff for more winter food and drink ideas.
This is not a sponsored post. We were sent samples. All opinions expressed are our own.