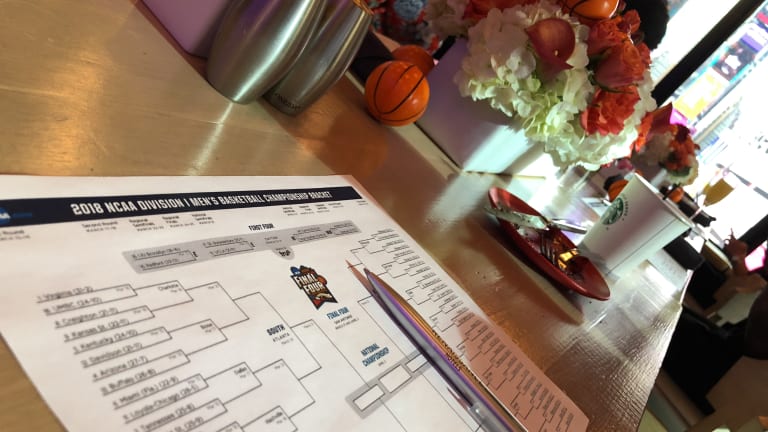 Publish date:
5 Mom Tips For Picking March Madness Brackets
Follow along with the biggest College Basketball tournament with your own family bracket game. Here are tips to filling out a better bracket.
Follow along with the biggest College Basketball tournament with your own family bracket game. Here are tips to filling out a better bracket.
Moms get a bad rap for not being cool when it comes to sports knowledge. I admit it's hard to keep up on both fashion AND sports, but this year I'm trying to take part in the NCAA Tournament fun. I went to breakfast with Marriott (Marriott International is the Official Hotel Partner across all 90 NCAA® championships including men's and women's basketball) and got some insider tips for filling in your tournament picks. I just had to share my mom tips for March Madness brackets.
Related: March Madness Party Ready Recipes
March Madness Family Fun
I've always loved college basketball. My brother snuck me into a Duke game back in the 1990s when he was at school. When I heard the Cameron Crazies I was hooked. I loved the pace and the drama. When it came time for me to select a college, I picked Vanderbilt, and was keen to see more college hoops. Student tickets were cheap entertainment and I was a big fan of our Commodores. After graduation, I continued to follow college ball and watch the Final Four games.
Fast forward a few decades and things have changed. As family life got busy, I honestly stopped caring about college sports. But I am about to change that. March can be a dull month, lacking in holidays, but if your family plays along with March Madness®, you can liven things up. I'm getting the whole family involved in making picks and we are all going to follow along.
Picking Better Brackets
To help me with my picks, I got pointers from college basketball star Robbie Hummel. Robbie attended Purdue University before playing professionally. Now he's a college basketball analyst for ESPN and The Big Ten Network.
Robbie led the Boilermakers to their first Big Ten championship in school history in 2009 and was named the tournament's most valuable player. He played in the NCAA Tournament in all four years of eligibility at Purdue, including an appearance in the Sweet Sixteen in 2009. He knows a thing or two about college basketball.
At the event he gave us some insider tips and I filled out my bracket - I definitely have Purdue going far thanks to Robbie!

Five Tips To For a Girl's First Leg Shave
Do you remember your first time shaving? Mine wasn't pretty. I snuck my dad's razor and shaved my legs dry. It wasn't pretty. Get your daughter ready for this rite of passage with the right tools and a quick education. We've got five tips to help you navigate your daughter's ...read more
Why You Should Add Wild Blueberries to Your Diet
Do your New Year's goals involve healthier eating? Adding more fruits and vegetables to your diet? Or even adding tasty new recipes to your repertoire? We've got five reasons for you to add wild blueberries to your diet. Our friends from the Wild Blueberry Association have ...read more
Why Moms are Loving This Blueberry Couscous Salad
It's blueberry picking time. And while most blueberry recipes revolve around baked goods, we've got something different to share. First, a few sentences singing the praises of this lovely fruit. Blueberries are high in antioxidants, improve memory function and reduce the effects ...read more
5 Mom Tips For Picking March Madness Brackets
Ok, now the tips so you can impress your kids with your hoops knowledge.
In the first round, never pick the 16th seed in a bracket. They never win.
Always have the 1 and 2 seeds go to the second round.
As you move along to the Elite Eight, don't pay too much attention to top seeds, college ball is driven by heart and emotion and giants can be slain.
Upsets happen when the 3, 4, and 5 seeds play the 6, thru 10 seeds. This is a great place to take some risks.
Pick blue! This tip is from ESPN: Only one champion in the past 14 seasons that DID NOT have blue as a school color. 
What do you think? Are you game?
Create a family challenge. Maybe the winner gets a week off of chores or a special dinner? Make it fun and be sure everyone fills out a bracket...even the family dog. 
Download the Capital One March Madness app!
Be the fun mom and fill out a bracket and follow along. Filling out brackets is easy. You can print out a copy from the NCAA or use and app. 
Head to the official app https://bracketchallenge.ncaa.com. Download the app and create a profile (I'm momtrends!) Then you simply make your picks. Hurry! The selection day is March 15th! Games begin on 17th of March. In 2020, the National Championship is in Atlanta.
Let me know if you make a bracket and we can follow along! I'm hoping the girls get into it and want to see a live game some day soon.
More Basketball from Momtrends
Pin It!
Save your favorite recipes on Pinterest. Be sure to follow our The Big Game board here on Pinterest. 
This is not a sponsored post.