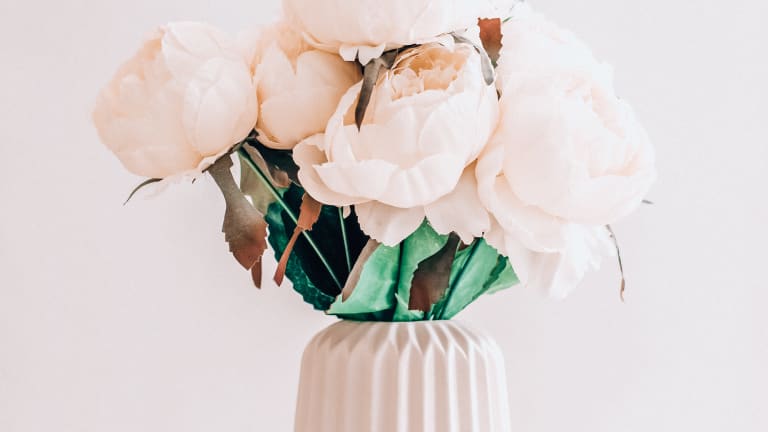 5 Impressive DIY Floral Design for Spring
Sharing a few simple tips and ideas to create your own beautiful arrangements on a budget. Plus, five DIY designs to try.
Spring is in the air... Well, almost. It's the end of February and the tail end of winter and we are counting the days until warmer weather, sunshine, and _ becomes the norm. We've had a few previews--(anyone else in the tri-state area LOVE that unexpended record-breaking 73-degree day we experienced last week?!)--and it's gotten us extra excited for spring to come.
Related: 10 Easy DIY Flower Arranging Tips
Spring Means Fresh Flowers
Fresh air and fragrant flowers--we are ready for you! One way I'm welcoming the season is with floral bouquets! Farmers markets start opening up and I'm so inspired to fill my house with fresh blossoms.
Did you know Feb. 28 is National Floral Design Day? Hey, I'll take any excuse to celebrate with a bundle of blooms. I love displaying them all over the house, but I don't love spending lots of money of them--so I'm sharing a few simple tips and ideas  to create your own beautiful arrangements on a budget.
5 Impressive DIY Floral Design for Spring
1. Wildflowers: Freshly picked wildflowers of varying heights always add a rustic appeal to a DIY arrangement. And this display is a great way to recycle old glass bottles.
2. Simple: Minimalism keeps it easy, clean, and simple to create. Let the colors and the blooms speak for themselves.
3. Natural materials: Mix varietals and vegetables. Easter comes early this year, and this easy-to-make arrangement is perfect for your holiday table.
4. Unexpected vessels: Get creative with your vases! Even a scooped out pineapple makes a lovely home for a few tropical blooms.
5. Add layers: Fill tall glass vases and canisters with different types of citrus fruits: lemons, limes, and oranges. Then top with a few overflowing flowers. It looks super impressive, but is actually incredibly easy!
MORE DECORATING IDEAS FROM MOMTRENDS
PIN IT!
Use Pinterest to save your favorite entertaining ideas. Be sure to follow our DIY and Crafts Pinterest board here.
This is not a sponsored post.