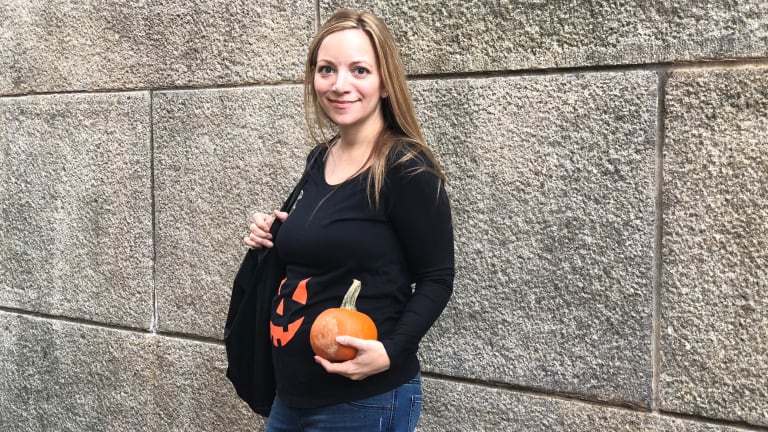 5 Fun Ways to Announce Your Pregnancy This Fall
When I was pregnant with my first, I didn't really make a big deal of telling people. My husband and I simply told family and friends, personally, one by one. And, eventually, through the grapevine, everybody got the memo that I was going to be a mama.
By the time my daughter came along, Instagram was the cool new kid on the block, and so I posted a photo of my then two-year-old son in a cute tee shirt and hat that proclaimed him the "world's best big bro." 
This third go around, though, I decided to have a little more fun "going public" with my big-bellied news. It's the last time, I'm going to have the opportunity to make a statement--so I figured I might a well get creative. (And, yes, before you question, that definitive statement, let me tell you: I cannot handle going through a first trimester ever again.)
Fall is already my favorite season, so I decided to embrace the autumn along with my burgeoning bump to tell the world (AKA social media) that I've got a bun in the oven. 
Are you, too, expecting? If you plan on making an announcement in then next few weeks, there are so many fun ways to do it. I'm sharing a few seasonal ideas for your exciting reveal!
Model Your Little Pumpkin
I found this jack-o-lantern belly bump tee on Amazon, and, while I initially thought it was a little cheesy, I decided it was downright adorable once I put it on. It hugs my not-so-huge-yet bump, and subtly reveals my message to passersby. Have someone snap a shot of you "shopping for your perfect pumpkin" or posing with a tiny gourde. (Insert caption, like: Mommy's little pumpkin" and watch the likes pour in.)
If you have older kids like me, you can dress them in these matching jack-o-lantern pajamas for a super-sweet photo (like this!).
Dress in a Costume
Dress that bump up in a costume. A mummy is a cute and obvious option, but you can get creative and be an avocado--complete with a belly-bump pit. If you're one half of a couple expecting your first, there are some fun and witty costume opportunities that take advantage of your, eh hem, delicate situation. Going together as Juno and Paul Bleeker is a classic choice--and a nod to a great movie. You can even opt for a full family costume, like the Incredibles, and hold Baby Jack Jack's costume for a photo. (ElastiGirl and Mr. Incredible have been busy!)
Pick the Sweetest Apple 
Autumn wouldn't be complete without a trip to the apple orchard. Share a photo of yourself holding an apple by your tummy and then use either a letterboard (or caption) to announce how you are "happy to your core about the new apple of your eye." 
A Turkey Day Surprise
That big delicious turkey isn't the only thing cooking this season! Pose for a pic with that crisp golden bird, and reveal how you are baking a bun in the oven, too!
Show Gratitude
Use a letter board or chalkboard to make a gratitude list around Thanksgiving, and be sure to name your biggest blessing: a new baby on the way.
This is not a sponsored post. All opinions are our own.