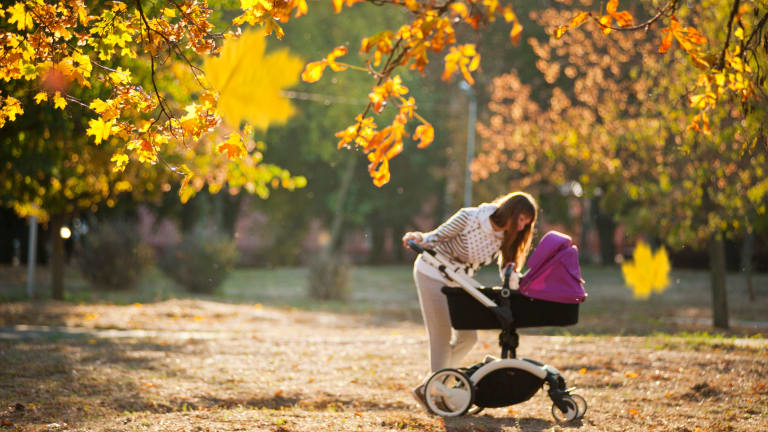 5 Essentials for Running Errands With Baby in Tow
You Don't Have to Stay Cooped Up Inside, Thanks to These Nifty Must-Haves
When my first child was born almost seven years ago, I was hesitant to leave the house alone with him for weeks. (Okay, months.) I was so nervous he'd have a meltdown in the middle of Costco or a diaper blow-out at my favorite salad joint. So, more often than not, we'd stay at home--twiddling our thumbs and desperately waiting for company. It was isolating for me as a first-time mom; but, still, I couldn't bring myself to pack up and resume normalcy--running errands, eating out, and socializing with friends.
Related: The best baby jumpers and exersaucers
With my second, I ventured out a bit more. But still, I was reticent to go any where other than our neighborhood park. But, now with my third babe, I have no choice but to pick up and go. With school drop-offs, pick ups, and endless appetites to feed, Mama has to get to the grocery store, PTA events, the pediatrician, and everywhere in between. And, moms, I have to tell you: it's so much more enjoyable when you're able to get out and about. Maybe it takes the perspective of having a few kids under your belt to say this; but, honestly, a public meltdown isn't the end of the world. It'll just give you a story to tell later. 
Still, I think we can all agree that we'd prefer to have successful outings with our littles in tow. That's why it's important to have the right gear to set yourself up for enjoyable outings. It doesn't take much to ensure you can run your errands and keep Baby content. 
Here are my top must-haves for a mama-on-the-move.
1. Fit2 Infant and Toddler Car Seat - While some parents opt to go with a convertible seat straight away, most opt for a "bucket" seat that you can snap in and out of a base for portability. 
The Chicco Fit2 is designed to conveniently allow parents to adhere to the American Academy of Pediatrics (AAP) recommendation to keep children rear-facing for as long as possible – a minimum of two years – with the use of one car seat.
The intelligent 2-stage design, enables the Fit2 to easily convert from an infant to toddler position using a built-in stage-position lever, all without taking up additional space in your vehicle. This gives you more time to use a bucket-style seat--a simpler way for moms to keep coming, going, and running around with baby in tow.
2. Chicco Shuttle Frame - I had a generic snap-and-go frame with my first, and it served its purpose, but certainly wasn't a mainstay in my gear repetoire. It didn't feel particularly sturdy or secure though, so I prefered to schlep my big stroller frame most of the time. The Chicco shuttle frame, on the other hand, has almost eliminated my need for a stroller during this early phase of infanthood. It's pretty much all I use when running out and about on errands. It's no the lightest, but it feels substantial, navigates like a dream, and "parks"with a toe-tap break.
The Shuttle accepts all Fit2 and KeyFit infant car seats with click-in attachment. An easy-to-reach handle initiates a compact one-hand fold; and an easy-grip handle and parent tray with two cup holders and zippered storage seamlessly combine comfort and convenience. Oh, nad the large basket underneath the frame easily fits most grocery items. 
3. Milk Snob Cover - If you've ever had a stranger touch your baby or breathe too close while you're out and about, you'll understand the brilliane behind the Milk Snob car seat cover. It stretches over the car seat to provide a literal sheild between Baby and the world. I use it on our daily trips to Target (ha!), but it's also come in handy on chillier days at the park. When Big Brother had a baseball game on an unseasonably cool day, we were stuck outside braving the elements. I kept putting my hand inside the cover to check on Baby, and she stayed cozy and warm. The cover offered a bit of insulatiion--something I hadn't expected. 
Better yet, this is not a one-purpose product. It has multiple uses--in shopping carts, swings, high chairs, etc. You can even slip it over your head to use as a nursing shield. This mis a must-have for active moms who don't want to sacrifice style for functionality. (Did I mention how many amazing prints and designs Milk Snob has?!)
4. Boppy Baby Carrier: Sometimes Baby just doesn't want to stay in her car seat or go in the stroller. She wants her Mama, and she wants to be held--non-stop. Whether you're home or on the go, the Bobby Baby Carrier keeps your little one close in comfort and style. 
This lightweight, semi-structured and travel-friendly baby-wearing solution boasts intuitive, supportive design – simply click, strap, tie and go. Inspired by yoga apparel, the stretchy, soft fabric moves with mom and baby supporting an active lifestyle. Plus, it goes well with this mom's yoga-pants uniform!
5. Diaper Bag - Moms need a diaper bag that will keep her organized and ready for anything. This bag from Petunia Pickle Bottom features a designated spot for all the essentials, from burp cloths to bottles to binkies to a change of clothes (or two). You can carry everything but the kitchen sink (and maybe even that!) in this spacious and stylish tote.
WANT MORE BABY GEAR FROM MOMTRENDS?
Pin it!
Use Pinterest to save your favorite baby items. Be sure to follow our Baby-things-to-love board here.
This is not a sponsored post. It may contain affiliate links. Some samples were received.