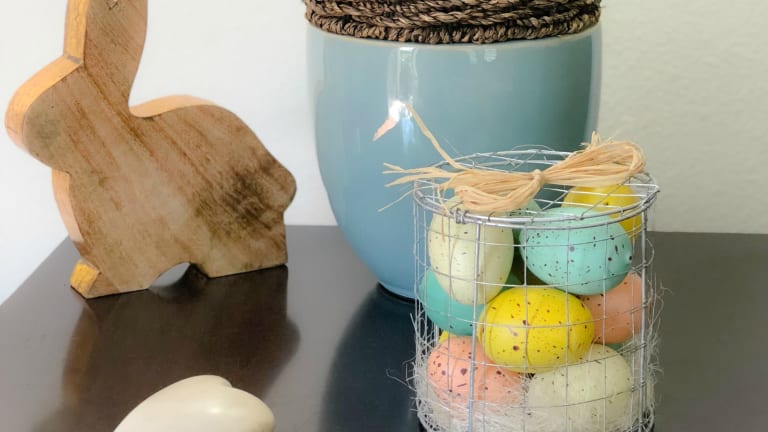 5 Easy Easter Decorating Ideas
These fun Easter decorating ideas will give your home a festive feel in no time!
Building up your holiday decorations collection can take quite a long time and take up a quite lot of space. Since Christmas is when I go craziest with my decorating, I like to be a little more low key with the other holidays. That's not to say that I don't want to jazz up our house for each and every holiday. Oh no. I still decorate. I just don't have a tree in every room like I do at Christmas. Bwah! So, with Easter coming up I thought I would give you a few easy Easter decorating ideas in case you too wanted to add a touch of spring to your space without going all out. You won't believe how far just a few Easter inspired details sprinkled about here and there will go.
Related: Three Free Easter Printables
It seriously took me very little time to decorate for Easter this year. And you can get your home ready just as quickly too. If you're hosting Easter dinner at your house, I'm sure your guests will appreciate the festive feel spending just a little extra time can give your space. In fact, I want to make things go as seamlessly as possible for you, so along with these easy Easter decorating ideas I've also included some Amazon Prime links to products that are similar to my favorite Easter decorations. That way you'll have them in plenty of time for the big day!
Easter Decorating Done Easy
Accent your accent table...Lay out a few decorative accents like a wooden bunny and/or a nest filled with faux eggs on a table or two.
Beautify your banister...Wrap your banister in an Easter egg garland. Garlands don't just have to be for Christmas!
Add a bunny...Speaking of bunnies, even an ordinary stuffed rabbit can serve as a decoration when placed purposefully in a chair!
Hang bunting...A mirror can double as the perfect surface to hang an Easter banner like my carrots cutie on.
Dress up your door...Leave no door undecorated. Haha! Even the door that goes from the courtyard to the garage has a moss bunny adorning it.
So, are you inspired yet? Before you shop, look in your holiday stash. You just may have some Easter decorations you forgot about. And if you do want to pick up a few more things before you have your Easter guests over this year, never fear. You'll find some dupes for the decorations I featured below. And for even more Easter inspiration, check out these Easter egg decorating tips and Easter place cards tutorial too!
Shop the post: faux robin's eggs / wooden rabbit / stuffed rabbit / carrot bunting / rabbit door hanging
MORE EASTER IDEAS FROM MOMTRENDS
PIN IT!
Use Pinterest to save your favorite entertaining ideas. Be sure to follow our East Pinterest board here.
We were not paid for this post. It does contain affiliate links.