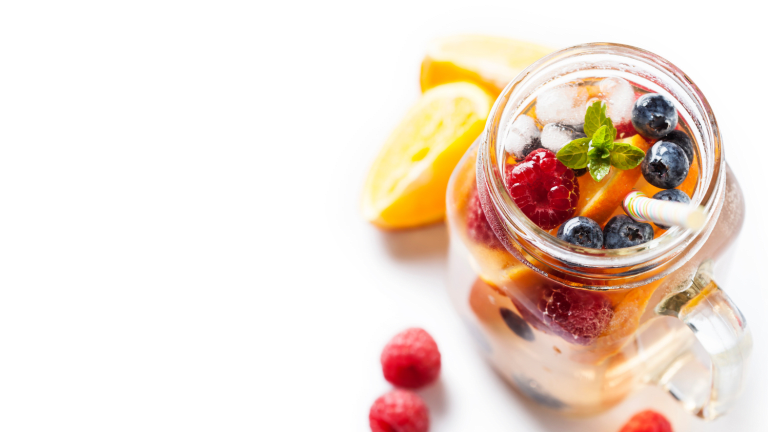 4th of July Sangria Recipe
Party ready recipe for summer cocktails
Fourth of July is just around the corner! To celebrate, we're serving up a simple, festive, and tasty red, white and blue sangria that is easy to make ahead and large enough to serve a crowd. Cheers!
4th of July Sangria Recipe
When I saw this recipe on RecipeGirl I knew it was the perfect choice for 4th of July festivities. It doesn't include any unusual ingredients and it's easy to make ahead. It feature lots of yummy summer fruits, you can size it up or down depending on your crowd, and it's a "dump it all in and mix" kind of recipe. My favorite! And of course, it's festively red, white and blue.
Ingredients for 4th of July Sangria Recipe
2 bottles dry white wine (try Sauvignon Blanc)
1 cup triple sec or other orange liqueur
1/2 cup regular or berry-flavored vodka
1/2 cup freshly squeezed lemon juice
1/2 cup simple syrup (1:1 water and sugar, boil, cool)
1 cup blueberries
1 1/2 cups hulled and sliced strawberries
1 cup raspberries
1 1/2 cups pineapple chunks, cut with star cutter
Directions for 4th of July Sangria
Combine all ingredients in a large punch bowl or pitcher and stir well. Cover and refrigerate at least 4 hours.
Serve well-chilled with a good scoop of fruit floating in each drink, or serve over ice. Enjoy!
Plan the Perfect 4th of July Party
For more tips check out the full recipe on RecipeGirl. And be sure to check out our backyard pool party ideas for the 4th of July too. It's got more recipes and decorations.
For more Sangria recipes be sure to check out this recipe for Sparkling Sangria it's light and bubbly. For something crisp and delicious, try this White Sangria.
MORE 4TH OF JULY IDEAS FROM MOMTRENDS
PIN IT!
Use Pinterest to save your favorite ideas for summer fun. Be sure to follow our 4th-of-July board for more inspiration.
Momtrends was not paid for this post. Please drink responsibly.