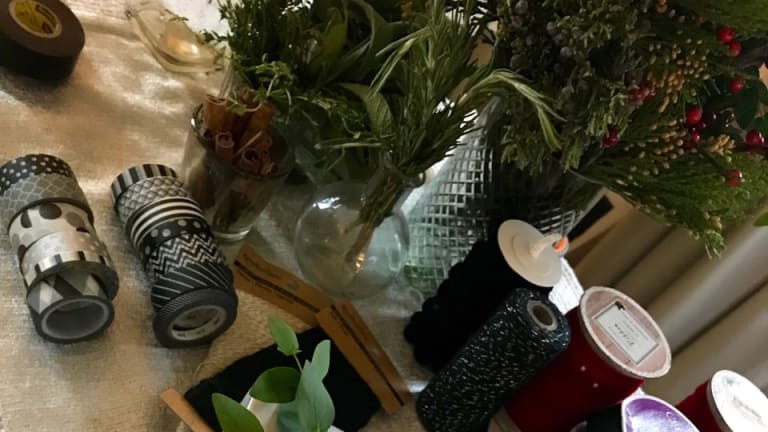 Publish date:
4 Holiday Gift-Wrapping Hacks
I love holiday cooking and crafting and baking and decorating... But one thing I absolutely abhor: holiday gift wrapping!
It can be painstaking work making all those presents and packages look pretty and perfect. And, if I'm being totally honest, this mama is not naturally talented with a scissor, some ribbon, and a roll of scotch tape. My gift wrapping skills are rudimentary at best, and when I use traditional supplies, the fruits of my labor fall short. (My final product always sort of looks like a five year old slopped on some Santa paper and slapped on some tape... Tada!)
Alas, I've learned a FEW tips and tricks throughout the years that have improved my game--and, better yet, I got some snazzy NEW ideas from a coworker who attended a recent über event!. You don't need major wrapping mojo to make your gifts look festive. All it requires is some creative thinking and a whole lot of love. After all, it IS the thought that counts...
1. Skip Wrapping Paper & Use Materials Around Your House: Wrapping paper can get expensive! Skip the pricey paper and upcycle some bags and paper from your home. Cover gifts in colored construction paper, use brown-paper grocery bags, recycle newspaper (black, white, and chic with a red bow on top!), or rip out stylish pages from Vogue or Vanity Fair for you fashionista friends. You can even use plastic bags from your fave stores! Just tie them off to make them taught. Raid your craft supplies for yard, embellishments, pom-poms, and other decorative touches.

Amazing Breastfeeding Accessories for Mom
As a breastfeeding mama I'm always on the lookout for stylish and functional accessories. Chewbeads and NuRoo offer moms products that pull double duty! Add an extra layer of style while also keeping it functional with Chewbeads necklaces and NuRoo nursing scarves. Both of ...read more
Gender Neutral Nursery Color Schemes
Your family is about to bring a new person into the world, and you want to share a bright, open and welcoming world with your little one. Leave the stereotypes and generalizations behind and let your child enjoy a warm, loving nursery decorated thoughtfully by you and your ...read more
Create a Farm Themed Gender Neutral Nursery
The farmhouse chic trend is taking over nursery design and we couldn't be more thrilled. I'm over the overtly showy rooms filled with glitz and glam. This return to sweetness and simplicity feels just right. One of our favorite homewares shop, West Elm, has created the ultimate ...read more
2. Forgot Ribbon--Use Washi Tape!: Wrapping ribbon around a package looks gorgeous, but it's way more challenging than it appears. Skip the hassle and get some washi tape instead. You can make it look like a perfectly tied ribbon in seconds!
3. Add Accents From Nature: A fallen sprig from your Christmas tree, some freshly snipped holly, dried out flowers, and other outdoor winter elements add festive flair to your gifts. Just attach with twine and you've got yourself a naturally beautiful gift.
4. Have the Kids Get Involved: If it's going to look like a five year old wrapped it (like mine often do!), then actually have your five year old wrap it. Your youngster will love being involved in the effort, and you'll have a totally valid excuse for the haphazard aesthetic. Better yet, have the little ones draw pictures directly on the material you've used to wrap the package (this works especially well with brown-paper bags or construction paper!) . It's a sweet personalized touch your loved ones will adore.
Don't have a gift to wrap? We've all been there: A family member surprises with you with a gift, and you have nothing in return! Fret not--check out Uber's In-App Gifting feature. You can quickly whip out your phone and send an Uber gift card, right within your app. 
This is not a sponsored post.