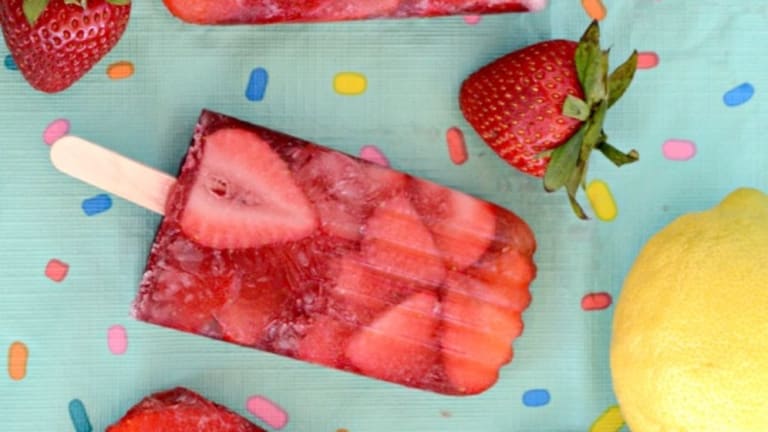 3 Ways to Rosé All Day
The second Saturday of June is one of my favorite holidays -- National Rosé Day. Here are some fun ways to celebrate.
Rosé season is officially here. And we're ready to celebrate with a crisp refreshing glass (or popsicle). To kick off the rosé all day summer and mark National Rosé Day (cheers!), we're sharing three satisfying ways to drink the wine of the warmer months. Enjoy!
Related: Strawberry peach sparkling frosé-recipe
3 Ways to Celebrate Rosé Day
The second Saturday of June is one of my favorite holidays -- National Rosé Day. I don't have to wrap gifts or cook a feast for my family, all I need to do to celebrate is chill one of my favorite wines and sip away.
Rosé Wine Popsicles
On a hot day, I can't think of a better treat than a frozen cocktail. These wine popsicles are full of strawberries, Rosé wine and just the right amount of sweetness to balance it all out. Get the recipe here. 
Sparkling Rosé Sangria
June is the time to enjoy the farmer's market. For us that means fruit. This recipe combines fruit and rosé in the perfect blend of summer. It can be the perfect partner for a day lounging in the sun or at the pool. Get the recipe here.
Rosé Dessert
For a fresh summer dessert, combine fresh strawberries, raspberries or blueberries with a little sugar and half a cup of rosé wine. Gently stir and let the mixture sit to let the flavors blend (psst - this is called macerating). Add in some chopped mint and spoon on top of vanilla ice cream, lemon sorbet or a shortcake. Get more ideas on this recipe here
MORE WINE LOVERS FUN FOR MOMS
PIN IT!
Use Pinterest to save your favorite cocktail ideas. Be sure to follow our Wine Time board here.