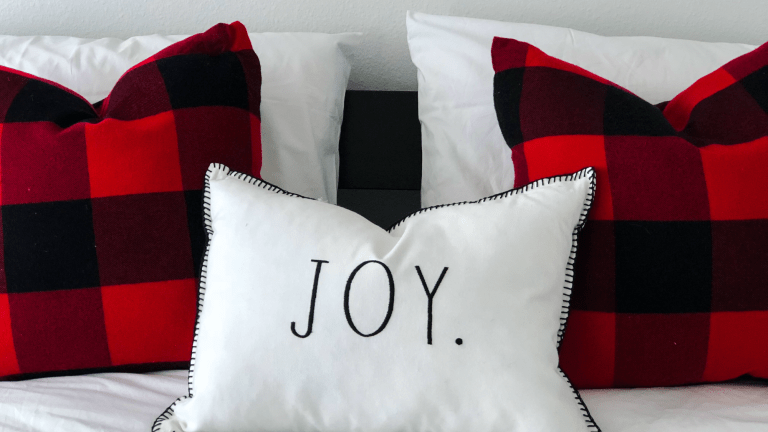 3 Ways to Get Your Guest Room Ready for the Holidays
Do you love decorating for the holidays? Me too! And I'm not just talking about putting up a festive Christmas tree in the family room. I'm referring to decorating every room in your home, including your guest room! So, let's chat about some easy ways to get your guest room ready for the holidays. I don't know about you, but I tend to open up my guest room at least a couple of times during the holiday season and I want my guests to not only feel at home, but filled with holiday spirit! Since I bet you too are going to be playing hostess this year, I thought I would share some easy tips for a holiday-ready guest room...
It's Time to Get your Guest Room Ready for the Holidays
Pick Up Cozy Bedding...What makes you more comfy when you sink into bed than nice, plush bedding? I've yet to meet a big squishy comforter that I didn't love and I'm partial to white ones. Not only do they help make a room look bright and cheerful, but white bedding allows you the freedom to switch out your color palette when the whim strikes, like during the holidays for instance. Now I opt to  cover my white comforter with a white duvet so I can easily wash it after my guests leave, but you could certainly ditch the duvet if you're up for laundering your comforter frequently.
Soften the Window Treatments...Not to knock blackout curtains, but I've found that most of my guests don't want to totally sleep the day away. That being said, they also don't want to be blinded by the morning light. Enter cellular shades, the perfect solution to your window covering dilemma. I recently had some cellular shades installed by 3 Day Blinds and I couldn't love them any more. They're so unassuming, yet totally work with today's aesthetic. And they let in light in the most beautifully filtered way.

If you've been thinking about upgrading the window treatments in your guest room, I highly suggest you consider cellular shades too. 3 Day Blinds actually inspired me to paint my guest room white to coordinate with the shades and bedding. After my consultant took me through my blind color choices, I knew a crisp white was just what I was looking for! Plus, they're energy saving and safe for kids. I just thought I'd share in case looks aren't the only thing you care about when making choices for your home. Bwah!
Insert Holiday Magic...Anyway, back to the holidays. This year, I added color bright red to all my whites. When it came time to start thinking about holiday decor, I knew I wanted to work in buffalo checks this year. So, I started to start small with a couple of red and black throw pillows. There isn't an easier way to change up the look of your space than new throw pillows. And I paired my new buffalo check pillows with the sweetest little Joy accent pillow in white and black. I mean if there's one emotion you want your guests to feel it's Joy right? And black, white and red is a color palette that always makes this girl happy, but I digress...Don't forget to throw a few more holiday pieces into the mix like I did with a glass tree and wooden reindeer. I'm a big fan of mixing textures as well as prints.
As you can see, you don't have to go overboard with the holiday decorating in every single room. A few well placed accents go a long way! Now that you've seen how to get your guest room ready for the holidays, check out our easy sugar cookies recipe. A freshly baked plate of cookies is a wonderful way to welcome your holiday guests too!
We were not paid for this post. We did receive samples.