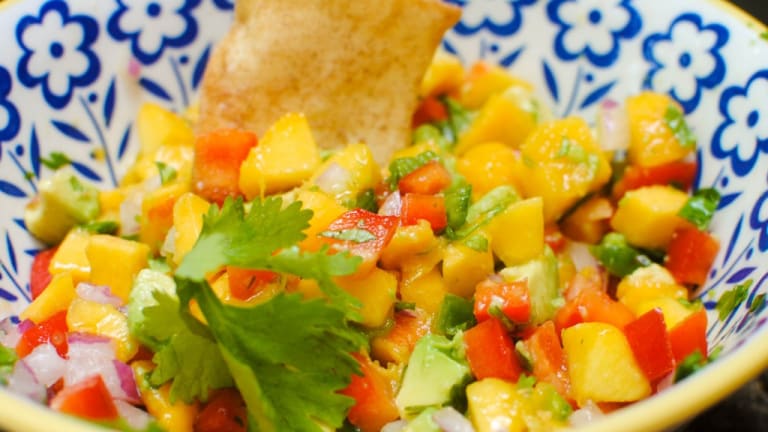 3 Ways to Eat Peaches This Summer
Who wants to add some new ways to eat peaches to their summer menu? I don't know about you, but I'm always looking for new and exciting ways I can incorporate my favorite fruit into my summer diet. Because if there is one fruit, besides watermelon, that totally embody summer for me, it's the peach. I am not kidding when I love peach anything! I'm talking peach drinks, peach desserts, peach appetizers...you know name it. If a dish calls for peaches, I want to try it! That could be because my family vacations regularly in Georgia and they have some of the most delicious peaches you can find.
So, you could say that I've been working peaches into my kitchen experimenting for ages now. Since I bet there are a good many of you who love peaches as much as I do, I thought it would be fun to share a few of my favorite ways to enjoy them...And they're all pretty darn refreshing! Because if this summer has been anything its been H-O-T!
Fun Ways to Eat Peaches
Peach Salsa...Peach dishes don't always have to be sweet. Peaches actually lend themselves to savory dishes quite nicely and this peach and avocado salsa is a perfect example of that! The two flavors meld so beautifully and it's such a fun spin on salsa!
Peach Sangria...This delectable cocktail comes with a double dose of peach action. It calls for both fresh peach juice and peach liquor and the result is out of this world. You could go all in with things and some fresh peach slices too. Just sayin'.
Peach Ice Cream...Nothing says summertime like an ice cream cone and a cone topped with homemade brown sugar peach ice cream is just what your summer needs! Not everything is worth taking the time to make it yourself, but this ice cream is. Take my word for it!
Now that you've seen some new ways to eat peaches this summer, check out another fruit treat we've been loving, frozen fruit treats to be exact...
We were not paid for this post.