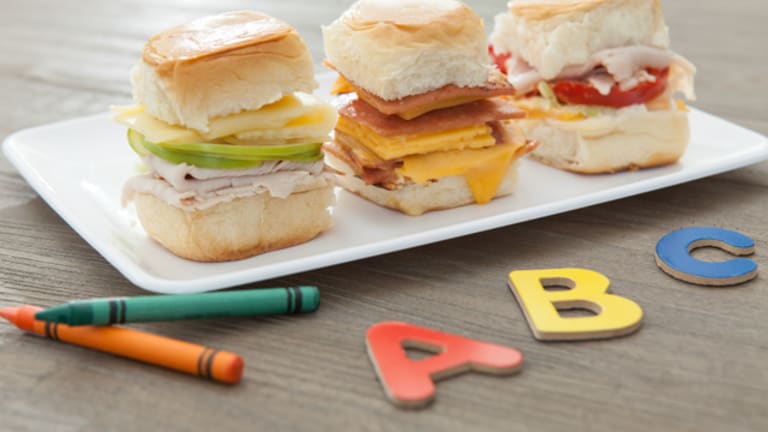 Publish date:
3 Twists on Your Typical Lunchbox Sandwiches
It's Easy as A B C, 1 2 3
It's Easy as A B C, 1 2 3
My kids are picky. A PB&J will NOT cut it in the lunchbox nor will a few bucks for a cafeteria meal. They expect their lunch experience to be--elevated. What can I say, I'm raising mini foodies. Good thing chef Donatella Arpaia shared some easy and delightful recipes that are perfect for families this back-to-school season. Known for her role as head judge on the Food Network's Iron Chef America, she is also a mother to her 6-year-old son, Alessandro--so she knows the struggle is real. Here are here savory solutions to the lunchbox conundrum. It's easy as the A-B-C's of sandwich making!
A Is for Apple: Turkey, Swiss and Granny Apple Sandwich:
· Spread 2 tsp. honey mustard on one side of Kings Hawaiian roll.
· Top with 3 slices of turkey
· Place 1 thin slices of Swiss cheese over turkey.
· Place a few thin slices of apple over cheese.
· Cover apples with second slice of Swiss cheese.
· Top sandwich with Kings Hawaiian roll.
B is for Bologna: Fried Bologna and Cheese Sandwich:
· Melt the butter in a sauté pan.
· Add the bologna and cook until bologna turns brown.
· Turn the bologna slices over and cook for another minute.

The Ten Best Wooden Play Kitchens For Kids
Cooking is a timeless fascination for children. This type of play goes beyond gender and teaches kids loads of life skills along the way. An investment in a play kitchen is money well spent, as it can provide hours of entertainment. We've rounded up the ten best wooden play ...read more
New Victory Announces a New Season of Shows
We know you're busy planning picnics and summer outings, but we wanted to let you know that The New Victory just announced their new season and it looks fantastic. We thought you'd like a sneak peek of what's in store! Each year the New Vic theater brings culture to tourists and ...read more
Fun Ways to Discover Venice Italy with Your Family
Greetings from Italy wear the gelato is rich, the clothes divine and the scenery is inspiring. Now that I've been to this fine city in the north of Italy, twice, I've amassed a list of favorites to share. These are some fun ways to discover Venice, Italy with your family. ...read more
· Top the bologna slices with a piece of cheese and let cheese melt.
· Remove from heat.
· Place bologna slices with cheese on top of sweet roll.
· Spread the other side of Kings Hawaiian roll with 1 tbs. mayonnaise or mustard.
· Top the bologna and cheese with the other side of the roll.
C is for Cheese: Grilled Cheese, Tomato and Mayonnaise Sandwich:
· Spread 1 tbs. mayonnaise inside a King's Hawaiian sweet roll.
· Place a lettuce leaf inside the roll.
· Place a slice or 2 of American cheese on top of lettuce leaf.
· Top cheese with a slice of tomato.
· Top tomato with other half of the roll. 
This is not a sponsored post.