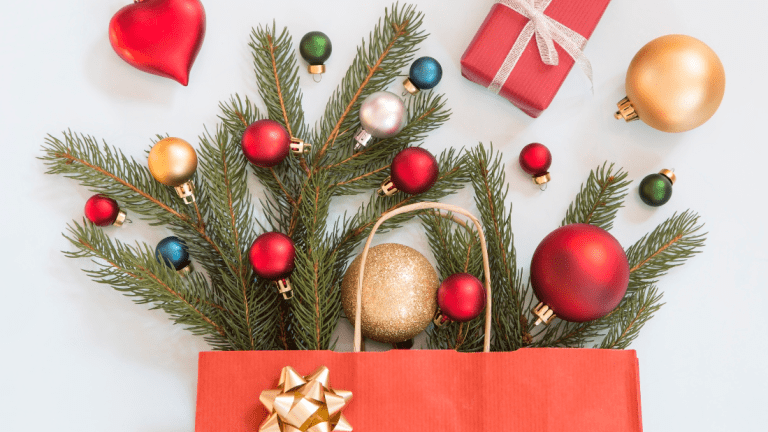 2022 Best Holiday Gifts for Kids
Our toy guide is chock full of the trendiest must-have gifts for kids ages 0-12.
Deck the halls and get ready for the jolly because the holidays are here and we are as excited as ever to celebrate with you. We're breaking down the gifting categories for you to make your shopping easier. This feature is dedicated to kids from 0-12. We've got ideas for every age and at lots of price points. 
2022 Best Holiday Gifts for Kids
While our littlest gift recipients may not be sharing their wish list with Santa just yet, our veteran moms know just what gifts will wow; some practical, some indulgent, all of them part of the 2022 must-haves gift list.
Destira Leotard: Destira is a women- and family-owned gymnastics apparel brand proudly manufactured and celebrated in the USA. They're on a mission to make sure every girl is heard, confident, and comfortable without letting what they're wearing hold them back. Destira is proud to produce leotards that are as unique as each athlete who wears them. Unicorns, rainbows, motivational mantras, hopes and dreams: they've packed it all into this whimsical Leotard. Part of achieving your dreams is believing in yourself, and the Unicorn Doodles Leotard and matching doll size leo give off all the good vibes. ($108) Get the Doll and Girl Gift Set.
SkiSkootys snow ski boot protectors: After a long day on the ski slopes are your kiddos so tired that they can hardly walk? SkiSkootys snow ski boot protectors features a curved comfort sole now has a youth version to help solve the problem. Youth Skootys provides great tractions, are adjustable, fold to fit into pockets and are available in three fashion colors. ($32) Get them at Skootys.com
Sew Fast Sewing Game: Ready, set, SEW! Based on the design of the 2020 Kidventor Competition winner Tristan. With 40 cards, four levels of difficulty, and multiple ways to play, seamsters young and old are in for hours of skill-testing fun with Sew Fast! Encourages fine motor skills, hand-eye coordination, spatial reasoning, problem-solving. Flip over the card to start the challenge. Ages 6-10. ($16.95) Get it at Fat Brain Toys here.
Children's Yoga Mat: Printed with 24 adorable, instructive pose illustrations, this is the perfect kid and toddler yoga mat for beginners to follow along and learn every position. Not only is yoga fun, it also helps build strength and flexibility, which in turn can reduce your child's chances of injury as they grow. A fun activity and coordination exercise for kids! By Really Good Stuff. AGES: 4 - 13. ($30.99) Get it on Amazon here. (note: this is an Amazon Affiliate link)
Paris Tea Set: Precious and delicate, a powder pink painted tin tea set with silver edging, presented in a charming illustrated box for serving tea to mummy and to all the little mouse friends. Designed in France and made with the finest French fabrics & materials. Perfect for ages 3+. ($56) Get it at Maisonette here
GizmoWatch 2: A kid-friendly smartwatch designed with your child's safety in mind. Parents will love the GPS locator, reminders and easy-to-use parental controls. This is one smart watch that fosters independence while helping to provide parents a little peace of mind. It includes interactive features like a step tracker to encourage healthy habits and to-do lists with rewards. Set up to 10 trusted contacts that kids can send voice notes to, call, or text. Waterproof, durable and easy to use, the new GizmoWatch 2 connects to 4G LTE from Verizon, the nation's most awarded network. $99.99. Get it at Verizon here.
Kelty Sleeping Bag: The all-around comfy, cozy bag your kids will bring to their sleep over, and use over and over and over, the Callisto kids rectangular sleeping bag gives them room to roam wherever their dreams take them. Inspired by the popular adult-sized version, the kids edition is sure to become as popular as their favorite stuffed animal. It's perfect for all the moments childhood memories are made of: campouts, outdoor movie nights, and first sleep-overs. Fits kiddos up to 5'. ($54.95) Get it at Kelty.com here.
American Girl Get Outside Camper: It's a great adventure to explore the great outdoors in a comfy camper. This teardrop-shaped camper has a main cabin with a skylight, a flip-down table, and a couch that converts to a bed that fits two dolls. The kitchen area in the back has a countertop, flip-down sink, and shelves to store all the food. There are two working lights inside for nighttime and an adjustable speaker that plays three songs and two nature sounds. Comes with all the accessories (my favorites include the decorative plant and the printed journal with camping notes. Ages 6+. ($329) Get it on AmericanGirl.com here 
Poop Bingo: Few topics provoke uncontrollable kid giggles more than animals and bowel movements. Add a dash of competition and you get a hilarious game for the creature and caca curious. Doo-ing away with letters and numbers, this illustrated poop-themed bingo board tests your child's ability to match the beast with its, well, business. Up to eight can partake in this challenge while learning strange but true feces factoids. For instance: Wombats poo in cubes, while penguin plops come out as colored squirts. In every round of play, little ones aim to be number one by using their newfound knowledge of number two. Made in China. Ages 3 and up. ($20). Get Poop Bingo at Uncommon Goods.com here.
Cactus Garden Magnetic Stacker: Mix, match, stack and magnetize these Manhattan Toy stackers. This soft toy cactus-themed set includes three fabric stackers. Each cactus stacker has three pieces that feature soft fabrics, embroidered designs and internal magnets that allow for stacking and mix-n-match play. There's nothing prickly about these soft cactus stackers that range between 4 - 6 inches tall. Encourages cause and effect learning, motor development and cognitive learning. Ages 0+. ($38.99). Get it at Magic Beans here.
L.L.Bean Snow Tube: Originally designed for use at commercial tubing parks, this tube's semirigid polyethylene base slides exceptionally well and is built for years of heavy-duty use. Sturdy base coasts on packed or powdered snow. Rugged shell helps protect inner tube from punctures and abrasion. Ages 5 and up ($159) Get it on L.L.Bean.com here.
Champions Mini Football Table: Organize football/soccer matches with your friends and win the tournament! Become the best striker of the championship by scoring the most points against your adversary. This table has 4 lines of players (12 players) and 3 wooden balls (diam. 2 cm). Due to its size, it can be taken anywhere and rested on an indoor or outside table! Net of the goal frames is removable (velcro system) to make it easier to get the balls back. (12.8 x 12.2 x 3.9") Recommended for kids ages 3+ (34.99) Get it on Magic Beans here.
Erupting Volcano Cakes Kit: Invite curious kids to uncover Earth's wonders while cooking up something delicious and explosive. I love how it combines baking and science.($47). Get Volcano Cakes Kit at Uncommon Goods.com here.
Great Toys and Gifts for Kids
Win it!
One lucky winner will get a Destira Leotard (featured) woven back style that features an ultra-buttery soft fabric and durable 4-way stretch material. Matching scrunchie included! Plus a $50 Amazon Gift Card. Enter on Rafflecopter here:
MORE MOMTRENDS GIFT IDEAS TO COME
More gift ideas for everyone on your list.
MORE FROM MOMTRENDS FOR THE HOLIDAYS
PIN IT!
Use Pinterest to save your favorite gift ideas. Be sure to follow our Holiday Recipes and Crafts board here.
This is a sponsored post. All opinions expressed are our own.