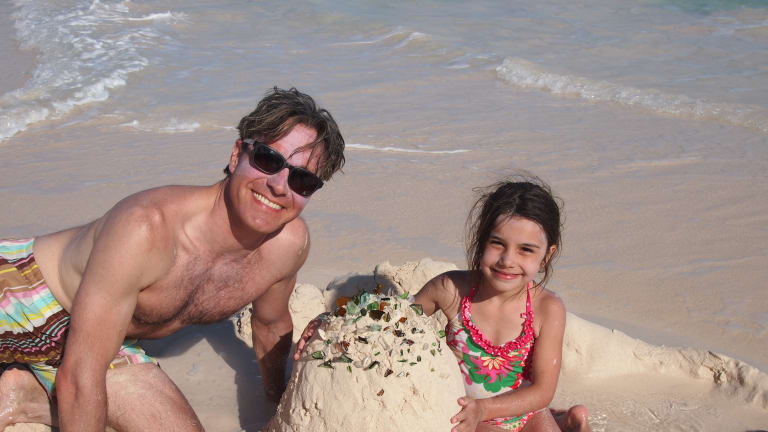 15 Favorite Father's Day Gifts Ideas
Getting personal with great gifts for the best dads. More than  a dozen gift ideas to show dad how you love him.
This guy! He's such a great dad and a great partner. I can't imagine parenting without him. While we try to celebrate him 365 days a year, Father's Day is the time to step it up with a gift that shows him we notice all the million things he does. That's why I'm sharing 15 Favorite Father's Day Gifts Ideas.
From making school drop off part of his routine, to mixing up the world's best smoothies, Mr. Momtrends is pretty awesome.
Sporty Father's Day Gifts Ideas 
Got a dad who loves a good ball game? We've found some amazing gift ideas. 
Ballpark Glasses: This set of  two whiskey glasses features a map of an iconic MLB stadium in the team's two main colors. Shop the Baseball Park Map Glasses - Set of 2
Sporty Shorts: Birddog shorts are perfect for the minimalist dad with maximum style. Check out our full review here. These shorts can go to the gym, golf course, tennis court and ocean, making them great for travel and for dads who hate to shop. We like the Russian Meddlers shorts with built-in underwear. 
Golf Dad: On the green personalized stationery can be custom printed in a flash with Dad's name. The reverse side of the paper can be printed with golf tees. We love that Minted allows the buyer to get creative with customizing the gift. Shop Minted personalized Golf Stationery here.
Book Smart Dad Gifts Ideas 
This is a great category for Mr. Momtrends. He did graduate Phi Beta Kappa after all! 
Shakespeare Glasses: This infographic features creative insults drawn from the works of Shakespeare. We all know someone who deserves to be dubbed a "penurious and indubitate beggar." And from time to time, you may be tempted to say that "he has not so much brain as ear-wax." This rollicking infographic is chock-full of such colorful insults from Shakespeare, the playwright who practically invented the art of the poetic put-down. Designer Tim Sanders culled the Oxford Complete Shakespeare to compile an endlessly entertaining word map of the Bard's boisterous, bawdy jabs, each one a mini-masterpiece of raunchy, rancorous Renaissance wit. The four-color, offset-printed poster on 100 lb., acid-free, FSC-certified paper makes the perfect reference and decor for an astute office, library, or thespian lounge. Shop the Shakespearean Insults Chart
Quotable Whiskey Glasses: This is what I'm getting Mr. Momtrends. He adores political science and American history. He can use glasses for everything from juice to whiskey. Each glass has a Founding Father's personal seal, signature, and a quote. "Without Freedom of Thought, there can be no such Thing as Wisdom; and no such Thing as publick Liberty, without Freedom of Speech," said Ben Franklin. Shop the Founding Fathers Whiskey Glasses 
Math Dad: Got a math lover in your house? Maybe an engineer or the guy who helps with algebra homework? These math glasses are perfect. Whether it's advanced calculus or just calculating ideal ice to iced-tea ratios, stay hydrated in statistical style with this set. Shop the Mathematical Glasses - Set of 4
Foodie Dad Gifts Ideas 
Perhaps you've got a whiz in the kitchen. For him, I've rounded up three great gift ideas. First a couple gifts for the man who loves to grill. In our house, we grill all year long, and we think the less we cook on the stovetop, the better. 

Grill Wraps: I can't wait to try these natural wood grilling wraps. These natural wood wraps infuse your favorite food with smoky flavor from Pacific cedar and alder. Made by a family-owned business that sources materials to meet the highest standards of purity, the sheets keep food juicy as they impart their naturally savory notes, and also offer unique presentation for plating. Each set of eight wraps includes a roll of twine to tie bundles securely for cooking. Shop the Flavor Infusing Grilling Wraps. 
Salt Plank: Also for the griller in chief, there's this cool Himalayan Salt BBQ Plank. This hand-carved platter of Himalayan salt is your multi-tasking tool that can go from grill to table. Plus, it amps up the flavor. The mineral content in the salt gives it a more nuanced flavor than table salt, and the amount of saltiness it imparts varies with the type of food. You can chill it to use as a serving platter for sushi, or heat it over a grill or stovetop to cook your veggie. Shop the Himalayan Salt BBQ Plank
Egg Maker: As I said, Mr. Momtrends helps out a lot in the morning. He's usually the one to whip up breakfast for the family. Now, it will be even speedier with this 45 Second Omelet Maker. Just place the ingredients and dish in microwave and you're well on your way to a well-balanced meal. Shop the 45 Second Omelet Maker
New Dad Gifts Ideas 
For all the new dads out there, my heart goes out to you. I love the trend that dads are now, more than ever, involved as parents. For the men who sired the latest vintages of babies we found some special gifts from Uncommon Goods
Custom Art: First, there's this personalized artwork by Mary and Shelly Klein. You get to customize the cast of characters: choose skin tones, hair, and clothing color to create a lovely lineup, then customize with your family name and the year you were established as a quirky clan. Printed on 100% archival enhanced matte paper with framed print in black BonanzaWood.  Shop the Personalized Family Print
Coffee: Caffeine and new babies go hand in hand. This coffee features notes of hops and barley. New dads likely have given up drinking beer with their buddies on the regular. This combines a jolt of caffeine with craft-loving tastebuds.  Shop Hopped Up Coffee
New Dad Coaching: This game-changing book is filled with inspirational sports quotes for rookie dads. The text is full of quotes and insights culled from dozens of sports' greatest coaches, with advice on being a leader, scoring under pressure, and how to encourage team spirit. Shop Dad's Playbook
Traveling Dad Gifts Ideas 
Travel Stub Diary: For the dad with wanderlust, he can preserve memories of his favorite trips with this travel stub diary. Load it with movie ticket stubs, postcards, maps and more. Scrapbooking requires a ton of effort. This is easy. This travel companion comes with clear sleeves to store your memorabilia in acid-free pages. Shop the Travel Stub Diary
Beer Cap States: It's a fun way to decorate and celebrate a favorite state! These birch plywood, state-shaped display boards are handsome holders for your bottle cap collection. From Brooklyn Blondes to Sonoma Saisons, each craft-beer bottle cap is a tiny trophy for hoppy triumphs. The openings have small teeth that fit the crimped edges of caps to hold them securely. Shop the Beer Cap States
Foil Map: Commemorate his favorite place with a foil-pressed map. Depending on the size, these start at $35. Since Mr. Momtrends and I have been to Paris 16 times together, I pick this map of the Seine. Shop Foil Maps Here on Minted.
Which gift will you give dad this Father's Day?
More Father's Day ideas
Pin it!
Use Pinterest to save your favorite gifts for Father's Day. Be sure to follow our Fathers Day board here.
This 15 Favorite Father's Day Gifts Ideas feature is not sponsored. It is full of affiliate links.