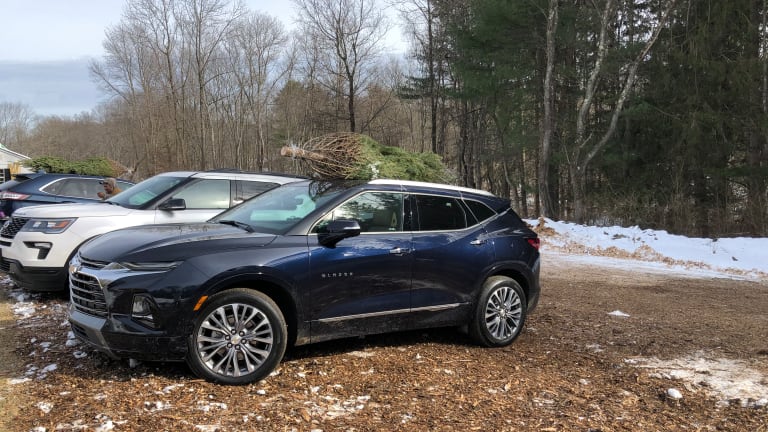 12 Tips for Cutting Down Your Own Christmas Tree
I grew up with a fake Christmas tree. We'd lug it up from the basement--branch by  dilapidated branch--every year after Thanksgiving. It wasn't until my husband and I moved into our own house in the 'burbs that we decided to get ourselves a real, live tree. 
Three years ago, we started a new tradition with our family--we pick out and cut down our tree at a charming farm in the North Fork of Long Island. It's become my most cherished seasonal activity--fresh air, nature, and hot chocolate. And I have to tell you, a fake tree has nothing on a real one--the smell, the feel, the look!
This year, Chevrolet invited us to test drive the 2020 Blazer and pick out our Christmas tree at a farm in Mendham, New Jersey. So we packed up the kids and hit the road for our annual holiday outing in a new and snow-covered(!) setting.
Be prepared: Always make sure to measure the space in your home and car so you know exactly what size tree will fit as you pick one out. Don't forget to leave enough room for the tree topper!
Stay warm: Bundle up, wear boots and bring a pair of gloves to make sure you stay warm when chopping down your tree. Whether it's snowing or wet outside, be sure to bring a piece of cardboard to kneel on while you cut your tree down. (The Blazer has a steering wheel warmer--so in case you forget the gloves, you can get your fingers defrosted in no time!)
Bring Gear: Select the right stroller for your farm outing. It was muddy with snow on the ground in Jersey, so I was glad we brought our Veer wagon--the wheels are made for tricky Terrain. Of course, we were able to fit our chosen gear (and more) with the Blazer's  Cargo Management System that maximizes storage and utilizes an adjustable cargo fence to allow drivers to segment the cargo space to contain items of various sizes.
Keep the Kids Entertained En Route: I love a good country drive, but the kiddos want to be entertained. Offering drivers seamless connectivity, the Blazer enabled us to utilize WiFi--so tablets were in use!
Choose Wisely: Most tree farms have a lot of options to choose from, so take your time and inspect the trees before you pick one out. The National Christmas Tree Association recommends testing out the branches to make sure the tree isn't too dry or unhealthy.
Chop Chop: Cut your tree low to the ground and straight across. Have a buddy pull the tree slightly away from the side you're cutting to prevent the saw from binding and make it easier to cut all the way through.
Always use Cross-Rails: Cross rails should be properly installed on top of your car to transport the tree home. Creating a hitching post with the roof rails makes it easier to tie the tree down. 
Use a sleeve: All trees should be put into netting or a sleeve for easy transport. Double check the tree is tightly bound with netting or rope before tying it to the top of the vehicle. Make sure the tree isn't longer than the roof of your car once wrapped up to ensure a safe drive home.
Stump first: Put the stump-end of the tree towards the front of your car. It's the most aerodynamic (and fuel efficient!) way to transport your tree home.
Tie it down tight: According to the AAA Foundation for Traffic Safety, an estimated 20 million Americans who purchased a live holiday tree in the last three years failed to properly secure it to their vehicle. Lay your tree directly overtop the cross rails, loop twine over and around, and repeat to cinch with a "figure-8" motion to secure your tree tightly to the vehicle. This will help protect the tree from moving around while you drive. You can always use more twine and crisscross across the street for extra support if you need it.
Drive slowly and easily: Take secondary roads and avoid highways, if possible. Keep your speed down and take your time easing into stops. Remember the tree is up there and stay safe.
Don't forget to water your tree: Make sure you put your tree into water immediately when you get home and place it away from heat sources like fireplaces or radiators that can dry it out. The tree will drink up a lot of water the first couple of days so make sure to check on the water level throughout the season. That way you can keep it alive and healthy all holiday season long! 
Want more from Momtrends?
1. Chevrolet Traverse: 8 Ways to "Traverse" Around Michigan 
2. Cruising to Hershey Park With Chevrolet
This is not a sponsored post. Thank you to Chevrolet for the tree-cutting experience and loaning us a 2020 Blazer.