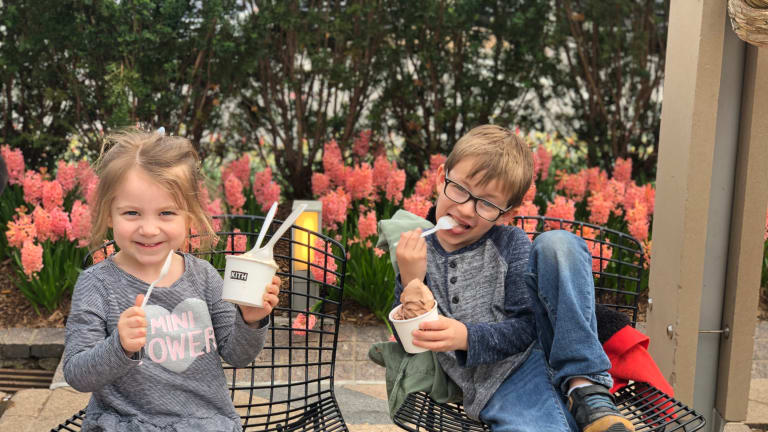 If April flowers bring May showers, we should be reaping the rewards any day now. And dryer, sunnier, warmer weather can't come soon enough. I don't know about you, but I'm desperate for some Vitamin D and Vitamin Sea! 
I had a baby six weeks ago--so I'm finally emerging from my cooped-up cocoon, and I'm more than ready to reintroduce myself to fresh air--and give Baby a dose, too! But, obviously, it's not easy getting out with three kids (ah, I have three kids now!). Luckily, even a few minutes of outdoor time can help revive the body, mind, and soul. 
Need a little refresher? Here are 10 ways to get some nature in 10 minutes or less.
Take a walk. Lace up your athletic shoes and head out for a walk around the block or to your neighborhood park. While you're out, commit to turning off your cell phone and enjoying the natural setting around you (it's just 10 minutes, after all!).
Get your kids moving. A rousing game of tag or hide and seek in the family yard is a great way to counter computer and screen time.
Play with your dog. A dog's favorite "room" of the house is your family yard. Take inspiration from your pooch and spend a few minutes outside playing Frisbee or fetch.
Clean up your outdoor living room. Make simple work of yard chores by breaking them up into smaller chunks. Ten minutes is enough time to put a serious dent in weeding a flower bed, sweeping off the back patio, or picking up debris from your lawn.

Five Tips for the Perfect Pumpkin Patch Visit
It's that time of the year again...pumpkin patch time! While I love a nice Pumpkin Spice Latte as much as the next fall lovin' girl...for me, the season is all about spending time with my family...and hopefully that time is spent outside as much as possible. If you're headed out ...read more
Perfect for Fall Pumpkin Spice Dirt Bomb Recipe
Get your pumpkin spice fix with this tasty dirt bomb recipe. Unlike fried donuts, this recipe is a little lighter and, since no hot oil is involved, a lot less messy. These dirt bombs, or baked donuts, are irresistible cakey muffins that are spiked with nutmeg and ginger, and ...read more
Save Money at a Ski Swap
Are the slopes in your future? If you want to save money on ski gear, consider a ski swap. A swap is a great way to buy and sell used equipment. Most swaps consist of a variety of gear, from brand new to used skis and snowboards to skis; from poles to boots to bindings and ...read more
Plant something. It is spring planting season, so take 10 minutes to dig a hole and introduce a new plant or get started on your vegetable garden or flower beds.
Dine al fresco. Taking a meal outside is one of the easiest – and most nourishing – ways to enjoy the outdoor space around you. Have breakfast with the backyard birds. Lunch at a park near your office. Enjoy your coffee break under a shade tree.
Study or read a book. Take the "work" out of homework by moving study or reading sessions to your backyard or community green space.
Swap a (short) commute for walking or biking. Do you typically use your car to run down to the mailbox, to a nearby convenience store, or to run other nearby daily errands? If it's not too far, take a short walk or ride your bike instead.
Meet outside. Fresh air can be a catalyst for fresh ideas, so take your next brainstorming session for work outdoors. Need to have a heart-to-heart with your child? Scientists have discovered that communication between parents and children is more connected when conducted outside.
Sit back and relax. Sometimes the best thing to do is absolutely nothing at all. Spend some time in a hammock, spread a blanket out on the grass, or take a meditation break outside to soak up the nature around you.
Next Read: Health-Boosting Benefits of Outdoor Play
This is not a sponsored post. Tips via www.SaveLivingLandscapes.com and TurfMutt.