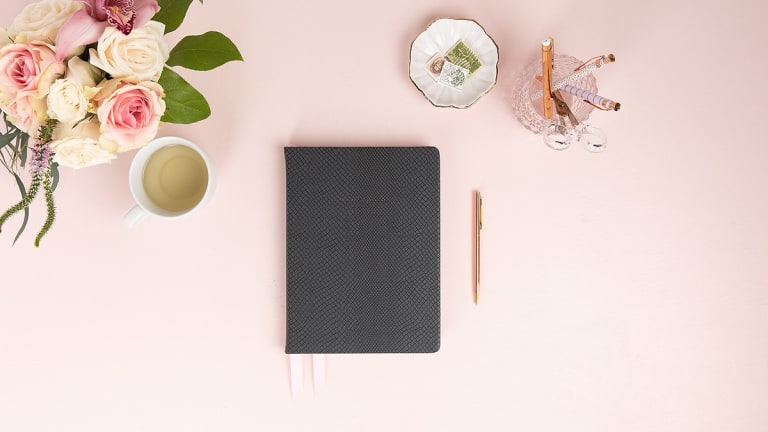 10 time saving tips for moms who feel stressed out
Best mom life hacks to manage your week for success.
My mantra this year is focus. I don't want to neglect my health or my dreams as I tend to the needs of my family and my business. Setting clear intentions for myself makes it possible to get the things that truly matter to the top of my TO DO list. I've come up with ten time saving tips for moms who feel stressed out.
Related: Three must have home organization products
Many of you have been along with for me for this ride. You've witnessed Momtrends go from a tiny blog to a full-blown business. And you've seen snippets of my babies turning into young women. Fortunately, I've managed to stay present throughout this blessedly full decade. Not every day, but most days. It's not by accident. It takes work, but you know me, I love to share. Here's how it happens.
My Best Mom Life Hacks
Each Sunday, I prep for the week ahead. You know the quote, "If you fail to plan, plan to fail" Are you ready for my life hacks to managing your week?
Dedicate a 1/2 day of your weekend to cooking. We grill up 3x the amount of protein we need over the weekend. The extra pork & chicken go into salads all week long. In addition, I give the slow cooker a workout. On average I make 4-6 containers a weekend of stews, soups and sauces. While Mr. Momtrends works the grill, I'm slicing and dicing all sorts of vegetables. We make a great team. We love spending our time in the kitchen together and we think it's important to show the kids that food matters.
Prep lunches when making dinner. Since we've gotten our mid-week meals planned out over the weekend, it's pretty easy to whip up a fresh and delicious meal Monday thru Thursday. I reheat the protein and then cook a whole grain and vegetables from scratch. While I'm chopping for dinner, I involve the kids in lunch prep. They pick one fruit, one vegetable and one cabinet snack to go with a sandwich or protein. Enlisting their help cuts down on complaints in the kitchen AND gives me some company. While they prep lunches, I make mine too. Instead of a sandwich, I mix up a salad. They are seeing me do three things: plan, prep and cook with love. Even if the food weren't fantastic, I'm still giving them a great life lesson.
Drink more water. Hunger is often masked by thirst. Being thirsty makes me irritable, hungry and tired. To boost my energy levels, I keep colorful water containers everywhere. The car, my bedside, my desk. I've cut way back on my Starbucks consumption and feel great. Plan ahead and pack your own water. 
Color code and share. Every different realm of my life has a different color on my calendar. Date night goes in purple and it's pretty sacred. Family commitments are pink. Ditto for those. Work meetings are in blue and then things I'd like to attend are in green. It's easy to see where I'm needed most and when.
Make the Sunday night cuts. When all that color coding starts to look like a hodge-podge mess finger painted by an overtired toddler I know it's time to pull back. This is what I call the Sunday night cuts. I huddle with Mr. Momtrends and we see where we can carve more family time from the chaos. Then Sunday night I send my regrets and emails out to free up my calendar. This practice really sets my mind at ease.
Use apps to save on commuting times. One of my favorite new trends is in-home beauty services. I can now get my blown outs and manicures at home. Cutting down on my travel times means I can get hours back in my week.
Get a workout buddy. My running partners keep me on track and my 2x monthly personal training sessions keep me focused. Without these two things planned out, my fitness would not be the priority that it is. Being a fit mom means I've got more patience for everyone and the stamina to keep up with my active girls.
Set your outfit out the night before. I like to look pulled together. Since my brand is based on style, I want to make sure I dress that part. Winging it each morning while trying to get the kids out the door doesn't equal style success. I put my outfit complete with shoes and accessories up in my closet AFTER I check the weather and before I go to bed.
Add a moment of silence to be thankful. You can achieve this through prayer, journaling or meditation. I find this practice especially helpful after a hectic stressful day. Finding things to be grateful for sets my mind at ease. It doesn't have to take a ton of time to build a happy heart.
Rest up. This includes sleep. Make sure your day looks like it'll get you the 7-8 hours you need. I pick Zzzquil because it's non-habit forming and made just for sleep. You can see I'm a planner. I'm thoughtful about how I interact with those I love and people I work with. This means sometimes my mind goes into overdrive just as I'm trying to wind down. Try as I might to plan for the next day and then relax, it isn't always possible. On those occasional nights, I trust Zzzquil to help me get the sleep I need to be the mom, wife, woman and friend I want to be.
MORE ORGANIZING TIPS FROM MOMTRENDS
PIN IT!
Need more ideas on what to do with the kids? Be sure to follow our Organization board on Pinterest here.