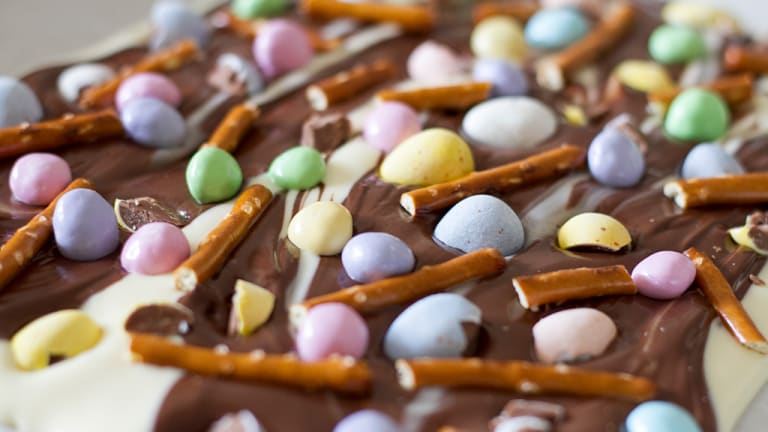 Publish date:
10 Sweet Easter Treats for Your Kids
These tasty sweets are the perfect Easter treats to surprise your family with this year!
These tasty sweets are the perfect Easter treats to surprise your family with this year!
Easter has always been one of my very favorite holidays. I'd even rank it up there with Christmas in terms of how much I enjoy celebrating it. Like with most holidays, that love can be traced back to my mom and how special she made Easter for us growing up. And a big part of the kid-centric fun are the goodies in the basket. To inspire your basket making, here are 10 Sweet Easter treats for your kids. 
Related: Three free Easter printables
We had so much fun decorating our home with spring-ready Easter themed decorations and making tasty Easter treats galore. We even had a stack of spring and Easter books that we would pull from to read each night. 
We really went all in with our holidays. And making those tasty Easter treats I mentioned...That was one of our favorite ways to celebrate! We've made krispie birds' nests for as long as I can remember, but I think it's time to add some new Easter treats to the mix. So, I've rounded up a slew of sweet Easter treats that I'm going to let my kids pick from this year! Who else is up for whipping up something new?!
10 Sweet Easter treats for your kids 

5 Pretty Ways To Organize Your Jewelry
I admit - I'm guilt. Despite my best efforts, my "jewelry drawer" has become a tangled mess of necklaces, bracelets and earrings. This cluttered collection not only makes it hard to see what I have, but difficult to untangle the pieces I do want to wear! This summer, I'm ...read more
This Year's Coolest Jumbo Pool Floats
Pool season is almost here! I can't wait to relax, read a book, and sip a cocktail while lazily drifting in an oversized float. (Just kidding, I have two toddlers--but a swim mama can dream, right?). If you've got a staycation planned, check out this year's coolest jumbo pool ...read more
Crystal Clear and Pristine: Pool-Cleaning Tips
Tropical Storm Isaiah gave us quite the midsummer surprise here in the suburbs of New York City. We just got our power back on after a whole week of darkness! With trees down, debris everywhere, and lots of uncertainty, one thing we forgot to check on: our above ground Intex ...read more
Now do those look like some tasty Easter treats or what?! I dare say your family will find at least one that they want to make! You can bet this girl will be tackling a few herself in the coming weeks!
And now that you've had time to check out all these sweet Easter treats, why don't you head over to our Easter brunch recipes roundup for even more Easter celebration inspiration!
MORE EASTER IDEAS FROM MOMTRENDS
PIN IT!
Use Pinterest to save your favorite entertaining ideas. Be sure to follow our East Pinterest board here.
This is not a sponsored post.