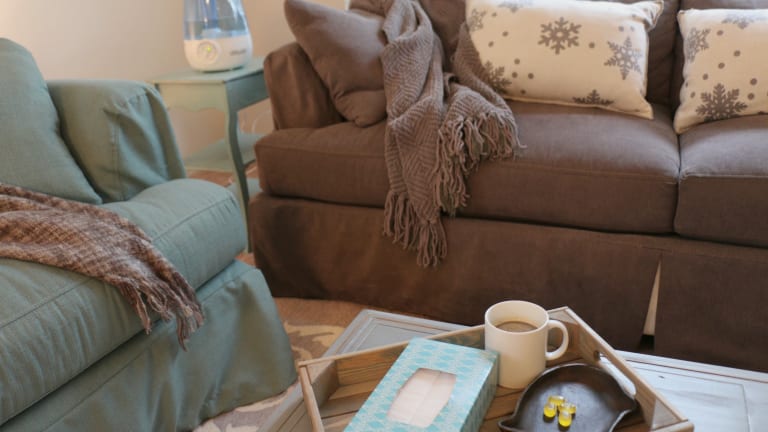 10 Survival Tips to Ease Flu Symptoms
You've done everything you could to keep your family healthy this winter, but a cold or the flu has infiltrated your house anyway. Here's how to make it better.
You've done everything you could to keep your family healthy this winter, but a cold or the flu has infiltrated your house anyway. Now what? I'm guessing you'd typically grab your laptop or smart phone and search for remedies. Well, you don't have to now. Just bookmark this post to find out how to ease flu symptoms. Bwah!
How to Get Relief from the Flu
Seriously though, sometimes we can do everything right and those pesky germs just make it through. That's why I like to have a bag of tricks ready, so I can take care of my loved ones, or myself, when they're down for the count. First though, before I bring out my tried and true tips, I have to say that it's important to set up the room the patient is most comfortable in. For my family, it's usually the family room. But for you it could be a bedroom or a den. The most important thing is that it's where they want to be, and that you have lots of cozy blankets to curl up in, but I digress…
10 Survival Tips to Ease Flu Symptoms
1. Use a humidifier: If you're coughing, dry air is your nemesis. A comforting cool mist that adds moisture to the air can provide temporary relief from coughing and congestion is what you need. This in turn will help you breathe better so you can get the rest you need to recover. That's just what the visible cool mist from the super easy to use and quiet (score) Vicks® Filter Free Cool Mist Humidifier can provide.
*And did you know that The American Academy of Pediatrics recommends using a cool mist humidifier during the winter months to help relieve congestion and cough in children? So, it's not just me telling you to hop on the humidifier train. Also, cool mist humidifiers can help you achieve the right humidity level in your home which can then reduce the survival of flu viruses on surfaces and in the air. Studies show that flu viruses are right at home in cold, dry places. Oh winter! What are you doing to us?
2. Take a bath: If you have the chills, a nice warm bath can be very comforting.
3. Heating pad: Heat therapy can do wonders for aches and pains.
4. Tea with honey: Sip on a cup of hot tea and honey to help coat a throat that is sore from coughing.
5. Drinks on ice: On the flip side, if you're burning up. Drinking a cold glass of orange juice or sucking on ice chips can feel good.
6. Lip balm: I keep my favorite balm on hand to soothe chapped lips and have even been known to use it under my nose when it's irritated from all that blowing.
7. Throat lozenges: Sometimes you just want that instant relief. A lozenge that will help numb your throat can also help save your sanity. Popsicles work too.
8. Cool washcloth: Place one on your forehead and/or neck. Ahhh, bliss.
9. Soup: Sometimes it's the only thing that sounds semi appetizing. We shared some of our favorite recipes here.
10. Fuzzy socks: It might sound silly, but if my feet aren't warm when I'm sick, the rest of my body doesn't stand a chance.
So, there you have it, my go-to tips for how to get relief from the flu...I hope you don't have any cause to use them this season, but if the flu does happen to find your house, you can rest easy knowing that you can turn to these flu survival tips to ease those symptoms!
And if you just can't wait, you can buy your own over at VicksHumidifiers.com. No mama wants to be caught off guard during flu season!
MORE WELLNESS FEATURES FROM MOMTRENDS
PIN IT!
Save your favorite tips from Momtrends on Pinterest and be sure to follow our Health & Fitness board here.
This is a sponsored conversation written by me on behalf of Vicks Humidifiers. The opinions and text are all mine.