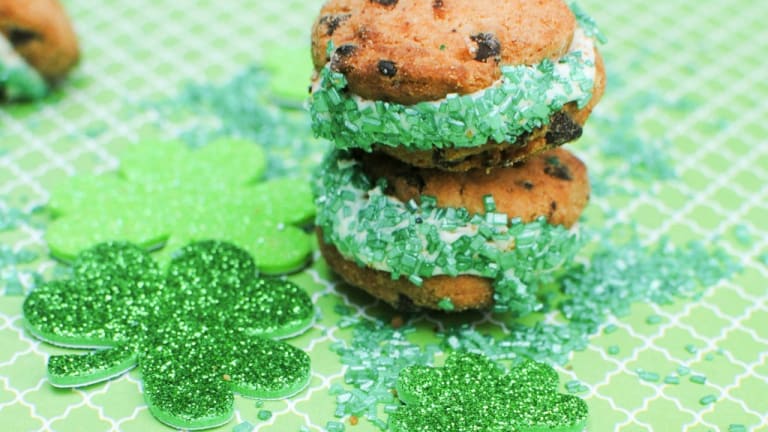 Who needs a little St. Patrick's Day treats for kids inspiration? I'm not the only mama who loves celebrating this lucky holiday, right?! Maybe it's always coming across an endless amount of cute holiday ideas on Pinterest. Or maybe it's because my mom always made each and every holiday so special for me when I was growing up. Whatever the reason, I can't resist the urge to celebrate any and all holidays. And that includes St. Patrick's Day.
Related: Easy St. Patrick's Day Craft Ideas
Why We Love St. Patrick's Day
Sure, the grownup cocktail traditions surrounding it are a blast, but St. Patrick's Day can be just as much fun for kids! So, I thought I would up some festive ideas to help you celebrate with your wee ones this year... There's even a fun printable to jazz up your treat presentation!
10 St. Patrick's Day Treats for Kids
Whether you're looking for sweet treats, or something a little healthier, each of these ideas would be perfect for your little St. Patrick's Day celebration! While they may be loaded with sugar, it's a holiday where it's all about fun and bending the rules a little. For our picks, it's all about fun, no point counting calories or grams of sugar. Check out our faves, I'm talking green food galore...

Five Tips for the Perfect Pumpkin Patch Visit
It's that time of the year again...pumpkin patch time! While I love a nice Pumpkin Spice Latte as much as the next fall lovin' girl...for me, the season is all about spending time with my family...and hopefully that time is spent outside as much as possible. If you're headed out ...read more
Perfect for Fall Pumpkin Spice Dirt Bomb Recipe
Get your pumpkin spice fix with this tasty dirt bomb recipe. Unlike fried donuts, this recipe is a little lighter and, since no hot oil is involved, a lot less messy. These dirt bombs, or baked donuts, are irresistible cakey muffins that are spiked with nutmeg and ginger, and ...read more
Save Money at a Ski Swap
Are the slopes in your future? If you want to save money on ski gear, consider a ski swap. A swap is a great way to buy and sell used equipment. Most swaps consist of a variety of gear, from brand new to used skis and snowboards to skis; from poles to boots to bindings and ...read more
And now that you've checked out all of these fun St. Patrick's Day treats for kids, why not head over to our St. Patrick's Day food post for even more festive ideas?! 
Enjoy! And may you all have the luck o' the Irish!
MORE ST. PATRICK'S DAY FROM MOMTRENDS
Here are more ideas from the archives.
PIN IT!
Use Pinterest to save your favorite crafts, menus and parties for St. Patrick's Day here on the Momtrends St. Patrick's Day Board.
We were not paid for this post.