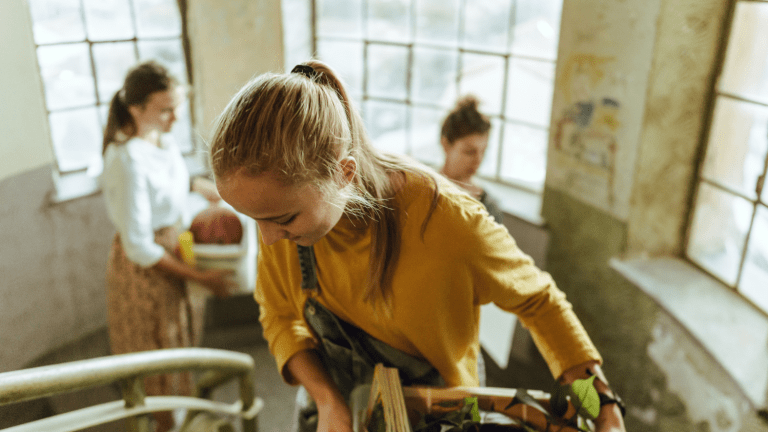 10 Dorm Move-In Tips
Help make dorm move-in day as easy and enjoyable as can be.


For college freshman, it's the day they've been thinking about all summer. For parents of incoming freshman, it's the day they've been fretting. No need to stress! Help make dorm move-in day as easy and enjoyable as can be with these 10 tips.
Related: Great dorm storage accessories
Start Packing Two Weeks In Advance: Going to college is as stressful as it is exciting. When you leave things to the last minute, it takes all the excitement out of the experience and leaves you only with stress. It's a good idea to start spending just 30 minutes a day, two weeks before you leave so you're not overloaded with a huge to-do list.
Use Storage Bins To Pack Your Stuff: Instead of cardboard boxes or plastic bags, use storage bins because (1) they're easier to pack, (2) you can use them for storage later, and (3) if you're using the kind that go under your bed for things like extra linens, towels or clothes, unpacking is unnecessary.
 Keep It Light: You don't need a heavy overcoat in August. It will make the first day a lot less overwhelming if you just pack the basics for move-in day. Winter clothes can be picked up when you visit at Thanksgiving, or your parents can possibly ship the bulky stuff to you.
Talk To Your Roommate: Find out who your roommate is and let him or her know when you're planning to move in so that you can avoid stepping on each other's toes by moving in at the exact same time. You can also figure out and coordinate who might be bringing what shareable items, like a TV or a coffeemaker (if your school allows it).
Bring An Overnight Bag Of Essentials: When you're exhausted from lugging stuff around and meeting new people, you won't want to go scrambling through bags for a toothbrush and a change of clothes. Keep your essentials in an overnight bag or backpack so you have everything you need for that night and the next day easily at hand.
Bring Drinks & Snacks: Because move-in day is tiring and you're going to want them. Just keep it lightweight and preferably without a strong odor.
Bring Cleaning Supplies & Tools: You'll need items for the sole purpose of moving in. Bring items like trash bags and cleaning wipes for tidying up, scissors, and wall mounting strips for hanging things on the wall.These items will come in handy.
Check The College Website: To make sure you're doing what you're supposed to do, check your college's website and read about their move-in policies and important info. Look at the campus map and figure out where you need to park, pick up your key, and unload your stuff. Also check the to see if there's a banned items list and don't bring those things.
Wear Comfortable Clothes: Sneakers are a must! Also stylish athleisure is perfect, as you can comfortably and fashionably go from unloading items to grabbing dinner with your new roomie later without having to change into a new outfit.
Bring 3 People Or Fewer: There will inevitably be a lot of commotion on campus, so you don't want your whole family along for the day. But some extra help and support is key too. Just try to limit it to three people. As chaotic as college move-in day can be, it's also a day you'll always remember. So, don't stress yourself out too much. Follow these tips and they will help. Above all, enjoy the day.

MORE HELP GETTING READY FOR COLLEGE
PIN IT!
Use Pinterest to save your favorite recipes. Be sure to follow our Moms' guide to college board for more tips.
This is not a sponsored post. Expert tips by Justin Lavelle is the Communications Director for PeopleLooker.com. PeopleLooker is a leading source of online background checks and contact information.