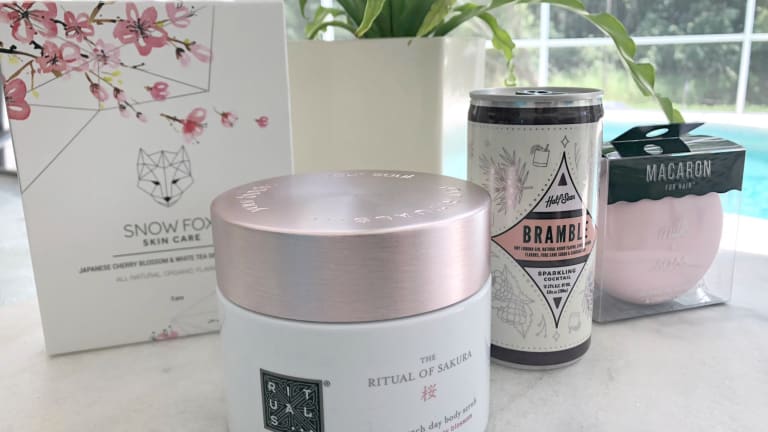 Publish date:
The Best End of the Year Teacher Gift Idea Ever
Thrill your kid's teacher with a pampering package focused on relaxation...
Thrill your kid's teacher with a pampering package focused on relaxation...
Do you have your end of the year teacher gift nailed down yet? It's that time of year again. School is ending and you need to put together a gift that will properly express how much you appreciate the teachers who have nurtured and educated your kiddos. This is something I struggle with every year. Not because I have any shortage of end of the year teacher gift ideas, but because I want to give them something they really want. 
Related: Teacher appreciation printable roundup
Well, being that there are a fair amount of teachers in my circle, I decided to do some informal polling. And after getting some responses I walked away with the impression that they appreciate the gesture, but they have enough coffee mugs. Haha! So, I decided to take a departure from my travel mug, gift card combo and put together a pampering package for our teachers this year...My goal is turn their bathroom at home into a spa like experience!
Indoor Plant
A plant from The Sill makes for an excellent gift all on its own, but include it as part of your pampering package and it become extra special. I like the Bird's Nest Fern because it's pet friendly! Shop The Sill Plants here.
Face Mask...
The Snow Fox Japanese Cherry Blossom & White Tea Soothing Mask is a most excellent choice. It's super soothing and will give your teacher the skin of her dreams!

5 Pretty Ways To Organize Your Jewelry
I admit - I'm guilt. Despite my best efforts, my "jewelry drawer" has become a tangled mess of necklaces, bracelets and earrings. This cluttered collection not only makes it hard to see what I have, but difficult to untangle the pieces I do want to wear! This summer, I'm ...read more
This Year's Coolest Jumbo Pool Floats
Pool season is almost here! I can't wait to relax, read a book, and sip a cocktail while lazily drifting in an oversized float. (Just kidding, I have two toddlers--but a swim mama can dream, right?). If you've got a staycation planned, check out this year's coolest jumbo pool ...read more
Crystal Clear and Pristine: Pool-Cleaning Tips
Tropical Storm Isaiah gave us quite the midsummer surprise here in the suburbs of New York City. We just got our power back on after a whole week of darkness! With trees down, debris everywhere, and lots of uncertainty, one thing we forgot to check on: our above ground Intex ...read more
Body Scrub
A decadent body scrub certainly falls under the pampering category and this luxurious body scrub is decadently moisturizing! Plus, you can't beat the delicate cherry blossom scent! We like this one from Rituals, but definitely gift something that YOU love. 
Sparkling Drink
Half-Seas Sparkling Cocktails are my new obsession and they're perfect for those times you don't want to spend the time mixing up a drink! And they look darn cute as part of a gift! Maybe your favorite teacher is more of a White Claw fan, it's all good! Give the gift of a happy hour after a very long year. 
Fancy Hairbrush
The Milk + Sass Macaron is a brush and mirror combo in the cutest shape around...a macaron! And it's been specifically created to detangle and prevent breakage. Check out all the colors at www.milkandsass.com
Now you could put all of these together for your end of the year teacher gift or even just one or two would make for a lovely gift that the teacher you're buying for might not splurge on herself. I've always thought those are the best kind of gifts! Oh and don't forget to include a handwritten note from your kiddo. They're most cherished so I hear from my teacher chums!
MORE FROM MOMTRENDS
PIN IT!
Use Pinterest to save your favorite ideas. Be sure to follow Momtrends here. 
We were not paid for this post. We received samples.