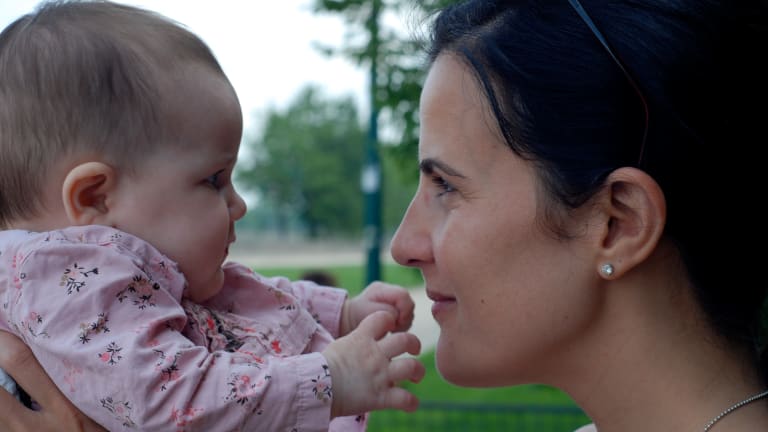 My Motherhood Mantra
Making the case for benign neglect on Mother's Day
This week our editorial team is spending some time musing on the theme of motherhood. I'm kicking it off with my motherhood mantra. When I try to sum up my parenting approach, the phrase benign neglect first comes to mind. I'm an observer of what's working, I like to let situations run the course, observe and then adapt. I never delude myself that I have all the answers nor do I try to be a paragon on parental virtue. I'm a work in progress not a finished product.
Related: Mothers Day breakfast in bed
Momtrends reflects this. The blog launched in 2007 as a bookmark for good ideas and products that made life easier. I started Momtrends as a lifestyle resource not a primer on parenting. Thank goodness that I didn't set out to tell you all my way is the best way.  Now that I've been a mother for over a decade, I hope a few of my findings will help my girls (now almost 13 and 10) understand who I am and how I got here and help you find the confidence to know you are doing pretty well at this mom gig.
But First, Thank you Mom
God bless my mother. She has the patience of a saint and a tremendous amount of pluck. Mom married young (19!) and got to work quickly having children. By the time she was 22 she was done having kiddos. I've learned a lot from watching her in action. One of her go-to parenting mottos: God only gave me two hands, that's all the kids can possibly have. This helped inform my decision to stop at two (well, that and NYC is really, really expensive). She also taught me the value of hard work and had a large influence on my parenting style. 
My mom has worked for my entire life in a series of jobs that afforded her the cash we needed for private school and college and the flexibility to be there for my brother and me as we grew up. While I think I got my entrepreneurial streak from my dad, my mom is a shining example of a fabulous work ethic.
Only boring people get bored
This was a great mantra of my moms that I have coopted. As a mom I don't spend too much time trying to entertain my kids. If they are interested in what I am doing, fabulous, if not that's ok too. But I am not a playmate and I am not in charge of fun. 
Books and reading are important to me. They see me modeling the things I value. There is always a copy of the New Yorker in my bag and I always have a book I am working on. 
When they lament of boredom, I go back to my mom's line, "I can always find chores for you to do if you are bored." That usually works. Oh, and boredom is great for the imagination.
Cool Moms Aren't So Cool
My mom never tried to be the cool mom. She didn't keep up with gossip, or fashion or the trends in music. She liked what she liked and didn't need to get the approval of her children. There were a few times as a teen or tween I longed for the trendy mom. Kids don't need BFFs out of their mothers they need role models and women who aren't afraid to take in the drudgery of "adulting."
Having Dinner Together Matters
Family meal time was sacred in our house. My parents often cooked in tandem (dad on the grill, mom doing EVERYTHING else). My brother and I made salad, set the table and cleared dishes. Before we started dinner, my dad took the phone off the hook so there would be no dinnertime interruptions. We said grace, used cloth napkins and had table manners drilled into us. It was our hour to catch up and share. No TV, just the four of us.
Having this ritual gave me my love of food (yep, I'm the mom who insists her kids eat fish and TRY everything). I also learned basic cooking skill from watching my parents in action and having them insist we pitch in. My family does that same. No matter how busy we are, we make time for shared meals.  
It'll Look Better in the Morning
I'm often asked for my best piece of parenting advice. My mom gave me this one too. After a disappointment, broken heart, or bout of homesickness, my mom would end our call or chat telling me "get a good night's sleep; it'll all look better in the morning."
Turns out mom was 99% right on this. 
Alright. Up to this point I have Marcia to thank for some of my best nuggets of mom wisdom, I have a few more to add that are my own.
Travel provides a lot of answers
My family didn't have the means nor the inclination to do much traveling when I was a kid. We did load up the family truckster on occasion to make our way to Rochester, NY or Williamsburg, VA, but mostly we stayed local. 
When I got the chance to go to college, I opted to attend school as far away from home as possible. I wanted to push my limits and my comfort zone. As an adult, I moved around quite a bit before landing in NYC. Before I had kids, I traveled for a full year living out of a backpack. I vowed that my kids would get the chance to see the world and have travel influence their young minds. 
Travel isn't always easy. Especially with kids. We carefully work experiences into all our travel opportunities. You'll rarely find our clan on warm sandy beaches for days on end. Travel has defined our family and my style of parenting. It's adaptive and it's thoughtful. Set course, observe, then alter course depending upon the conditions.
Our trips remind me to break out of my ruts and to be open minded. It also gives us a chance to hit the reset button on relationships and remind our kids that we have a "family first" policy. Work and commitments can bog us down when we stay too long in any one place. When we head to the airport with our carry-on bags we are reminded we don't need much to be happy. 
Find Your Tribe
My final bit of wisdom to share on Mother's Day is to find your people. The women or men who have your back. The women who can laugh and cry with you and never judge. I'm fortunate to have a handful of moms who make this parenting gig a lot more fun. 
Momtrends was always meant to be that extra BFF you need. Our site has meant to inspire you to do great things and to let you know we all fail, but have the ability to call a do-over and try something new. Our team is always trying to come up with the "something new" to keep you delighted and coming back for more. To all the mamas out there, thank you for being a part of our tribe, tell us YOUR parenting wisdom.
MORE MOTHER'S DAY INSPIRATION
PIN IT!
Save your favorite ideas to Pinterest. Be Sure to follow our Mother's Day board here.
This is not a sponsored post. All opinions are our own.
This My Motherhood Mantra feature is not sponsored.