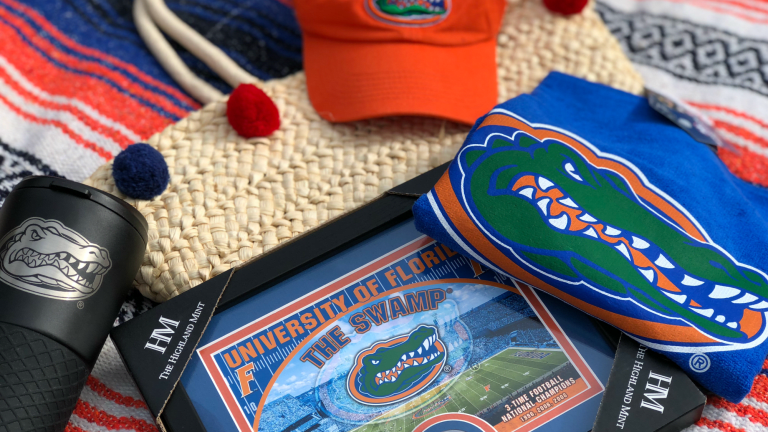 How to Celebrate the Sports Fan in Your Life
This post is sponsored by Babbleboxx.com on behalf of FANCHEST.
My hubs played professional baseball so he was and still is a big sports fan obviously. He's long past his ball playing days, but he still loves anything and everything to do with sports. In fact, after he retired, he got his MBA from the University of Florida, my alma mater. It's been so much fun having a full on Gator loving household during college football season! Yep, he's full on joined the Gator nation and that means he's all about Gator merch.
The Best Gift for a Sports Fan
And since Father's Day is coming up, I've been thinking about how I want to treat him for being such an incredible partner and dad to our kids. I thought a Gator themed gift seemed like a slam dunk idea. Enter FANCHEST who did all the work for me to help me come up with the perfect sports' themed gift. FANCHEST chests are filled with authentic officially licensed NFL, NHL and college merchandise. They're built for fans by fans and they're products a sports fan would actually use! I know the golf towel and travel mug in my hubs' chest are probably going to be put into action the same day he receives them. Haha!

You know what? My Father's Day shopping is done. It's been an insanely busy school year and with summer just starting, this mama is BEAT! As much as I love my honey and appreciate all he does for us, I don't have the energy to shop around for days for the perfect gift. FANCHEST took all the stress out of my shopping. They delivered the ultimate gift for sports fans without me having to source everything myself. And it feels like I'm giving him premium value products, which is great because he deserves the best!
Get Your Own FANCHEST
Use code PERFECTGIFT for $10 off any chest. You can not stack coupon codes and you can not use reward points on top of this code. The code expires 6/16/19. So, hurry and don't delay! Order a FANCHEST asap to celebrate the sports fan in your life! I know they deserve the best too!