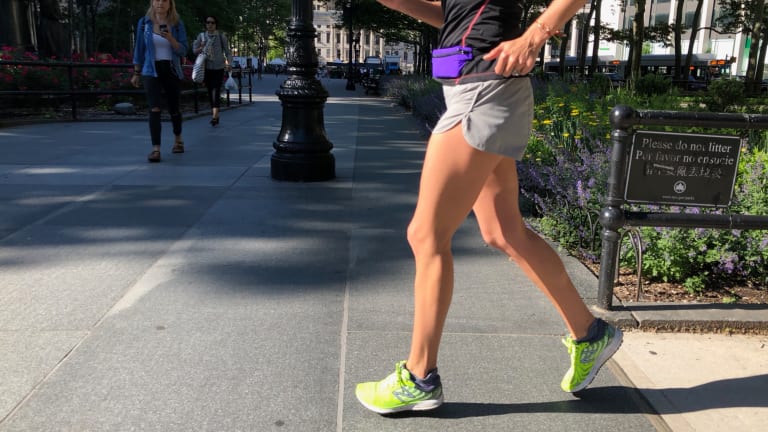 Essential Running Gear for Safety
Keep Yourself and Your Valuables Safe While Working Out
Today is National Running Day. While it's not a national holiday (yet) it is a great time to celebrate the sport and how much joy it brings me. Over the years I've written a lot about running. And I'm always keen to make it easier and safer for more moms to hit the open roads. That's why I'm sharing my picks for essential running gear for safety.
Running Safety Tips
Let's start with being visible. I always try to wear something bright like these New Balance running shoes or a bright top. I also avoid headphones unless I am on a treadmill or running in a very pedestrian area in the middle of the day. I want to be seen and have my senses available. 
I try to pick routes that are well lit and not secluded. I often run with a running partner and I don't run at night. You can get more safety tips from this Shape article. Momtrends Tip: Trust your intuition. If you see someone who makes you feel unsafe, find a safe area to wait it out or run the other way. I'm reading a book called The Gift of Fear and it spells out that we are often our own best protector. 
My Essential Running Gear for Safety
In addition to these tips, there is gear to keep you safe. I carry a bit of cash on me for an emergency cab ride or metro fare as well as an ID (I use an old driver's license) and my phone. 
To stash these essentials, I need a running belt. I have tried many running belts over the years. And my girls love to mock my "fanny pack" but safety comes first for this female runner.
Right now I am testing the SPIbelt running belt. It's the smallest and lightest belt that I have found that will also hold all of my running essentials. 
The SPIbelt Flex Belt is quite tiny and imperceptibly light. Fit it to your waist snuggly with the adjustable band and clip it on and off. It comes in a bunch of colors and also has a waterproof version. One more feature for those who HAVE to have music when running. The SPIbelt has a hole to pass through your headphone's cord. 
This is an ideal gift for a runner and I suggest buying two. Stash one in your gym bag or suitcase. You can order the SPIbelt online at Amazon or get more details on their website Spibelt.com.
Carry ID When Running
If I can't convince you to carry a belt, I would suggest a ROAD iD. The company is all about keeping runners safe. The ROAD iD is a simple bracelet with your emergency information on it. Customize the information on your bracelet and then pick a color. 
My bright green ID has my emergency contact and some general information about me (but not TOO much information). It's in a bright color so it will be noticed if something happens to me. It's waterproof and very lightweight. 
These are my safety essentials. Let me know what I missed and keep running friends!
Pin it and Use it!
Use Pinterest to organize your fitness ideas. Let us know if you try any of our suggestions.
This Essential Running Gear for Safety feature is not sponsored.