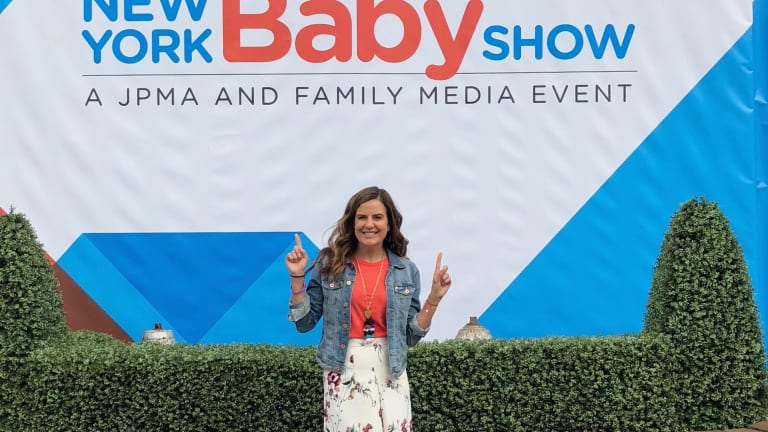 2018 New York Baby Show Highlights
Baby gear trends for parents
We were so thrilled to team up with New York Family to host the Blogger Lounge at the New York Baby Show. More than  5,000 families made it to the show to check out the hottest trends in baby gear and services. Pier 94 in Manhattan was definitely the place for the stroller set to hang out. I was lucky enough to tour the show and I'm sharing my 2018 New York Baby Show Highlights.
2018 New York Baby Show Highlights
There were so many great brands on hand, I'm lucky I had two days to tour the floor and do my trendspotting. New York Family has been putting on this show for eight years and it just keeps getting better.
The show features seminars, speakers like Harvey Karp, and lots of sampling. The stroller area was, once again, the hot spot of the show. Parents love the test track and were all too happy to get product demos from brand representatives.
New Trends for Strollers
One of the biggest purchases a parent will make is the stroller. It's especially true for NYC families since many of us don't have cars. As expected, the stroller area was HOPPING!
Check out this video from the Blogger Broadcast Booth:
One overall trend I spotted in strollers was luxury fabrics. I didn't see a ton of design innovation, but I did notice the finishes and fabrics continue to be extremely important. Brands like Cybex are partnering with celebrity fashion designers such as Jeremy Scott to come up with prints that WOW like this galaxy print.
Gear Trends 2018 New York Baby Show Highlights
Smart brands know that the New York Baby Show is a MUST for new parents. We saw some of our favorite partners like Regal Lager (they make the sweet and smart Love to Dream sleep system) and Huggies were there as well as loads of breastfeeding gear. Each year, we are charged with picking our TOP PRODUCTS of the show. It's a hard job, but here are my favorites.
My favorite finds were from smaller brands. First, I loved the new chess education series called Story Time Chess. It's an innovative way to teach kids 3 and up the rules of the game. Chess can be complicated to young kids. If you break down the rules and make them story-based, it gets a lot more fun.
You know I love accessories and fashion. Of course, I was smitten with all the Ju-Ju-Be diaper bags, but my favorite fashion item was the Hollamama jewelry. What mama doesn't love the idea of some mommy-and-me necklaces? The pieces were positive, pretty and the pops of color made them eye-catching. This is an everyday way to sparkle and remind yourself of the best parts of motherhood.
I love books, it's no surprise that I also loved the Lunii My Fabulous Storytellter. It's no wonder the MoMA design shop picked up this item. Kids can create a story by choosing various elements—the hero, setting, magical objects to personalize the story they hear. It's simply designed and quite elegant to behold. I love that it encourages kids to use imagination to picture the story.
Finally, while not a product, I adored the Pumpspotting breastfeeding van. It looks divine inside; the perfect spot to catch your breath and remember all the good parts of motherhood. Check out the interiors:
The van is traveling cross-country in a 40-foot "pumpsuite" - it's a big RV designed to bring communities together and create awareness and support for breastfeeding. Momming is hard enough, breastfeeding shaming simply has no place in modern America. I'm thrilled this van is hitting the road to help educate and support new moms.
2018 New York Baby Show Blogger Lounge
Bloggers had a big job to do at the show. We try to make it easy on them to engage with brands and create great blogging content. 
Our blogging pal, Mary Wassner of Downtownchicmoms hosted the broadcast booth. We encouraged bloggers to film video reviews in our booth to be used in their recaps. We're always trying to help our blogger friends deliver great stories.
Not only did we host the professional broadcast booth (see video above), we also set up a Blogger Lounge.
The lounge is a place for our blogger friends to get organized and refuel. Boston Market provided delicious catering. The mashed potatoes and roast chicken were definitely my favorites.
Blogger kids could burn off energy in the play area which was both secure and fun. After lunch, the bloggers headed back out to meet with brands and scour the floor for great products. Before they left, all our blogging friends got a great goody bag full of swag. Ju-Ju-Be diaper bags were one of the lounge sponsors and brands like Plum Organics contributed to the goody bags. 
New York Family has many more shows planned. They head to LA and Chicago this year. Momtrends will be at the Chicago Baby Show August 25 & 26 show hosting a blogger lounge. If you are interested, let us know!
This 2018 New York Baby Show Highlights feature is sponsored.