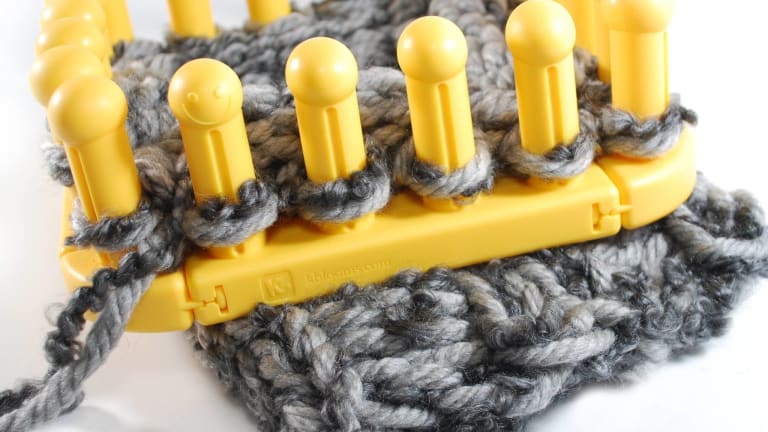 Zippy Loom Easy Crafting and Knitting
This is a simple wrap and hook kit that kids can use to learn to knit.
I've always been a "crafter". My parents encouraged me to create things (or, at least attempt to) rather than buy them and the ideal has stuck with me always. Personalized and handmade items became super trendy thanks to the advent of Etsy, and now everyone can be an artisan.
Get the Zippy Loom on Amazon here  (note: this is an Amazon Affiliate link)
However, not everyone has the time. Don't handmade items take forever to create?? Not anymore. And you won't be sacrificing quality, either.
Zippy Loom Easy Crafting and Knitting
Meet the Zippy Loom. This cute little peg system is designed to teach anyone to knit (like, literally anyone. We had testers as young as 3 who could complete the simple 3-step "zoom" process of knitting, and there were zero tears). 
The Zooming process consists of 
Wrapping the pegs
Wrapping the pegs again
Hooking the bottom loop over. Then repeat.
Boom. You've learned a skill in 3 minutes and made a scarf in about 15. Or a hat. Or a drink koozie like this one.
Something that really separates the Zippy Loom from other types of looms is the ability to connect as many Zippy's as you want. Included in the kit is a connector piece that slides into the end of the Zippy. Simply attach the next Zippy and now you've got a longer loom for wider knits for projects like scarves and blankets. 
When I say that the possibilities are endless, I truly mean it. You can make hats by connecting Zippy's in a square using Zippy corners. Best of all, the Zippy Loom website has free patterns to inspire your crafting.
Also included in the kit is a tool that helps you slide the bottom loops over the tops. You can opt to use your fingers or for tighter knits, it's helpful to use the tool. There are even little grooves in the pegs that the tool slides right into to make it even easier. Gotta love that. 
Zippy Loom Instructional Video
Watch our video for the full tutorial.
MORE KID-CENTRIC FUN FROM MOMTRENDS
Keep kids busy building a fort: Creative ways to build inside and outside your home
Create a cozy reading nook for kids: Make a space that's inviting for quiet time.
Throw a teddy bear tea party: You're invited to a party made for stuffed animals and small friends.
PIN IT!
Need more ideas on what to do with the kids? Be sure to follow our Activities to Do with the Kids board on Pinterest here.
This is not a sponsored post.