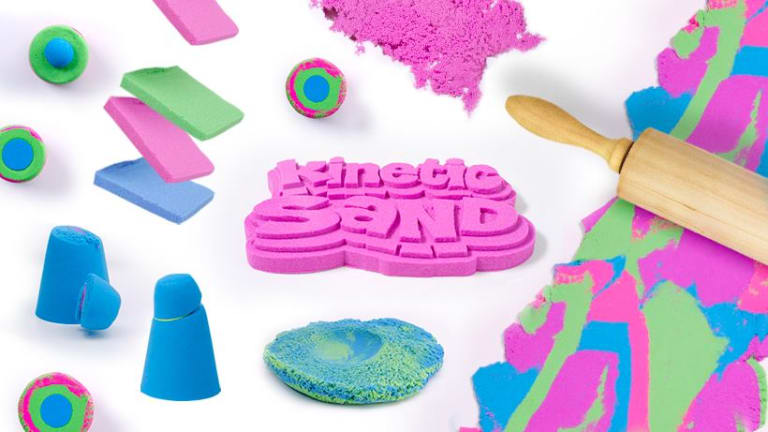 You Need to Know the Seven Amazing Benefits of Kinetic Sand
Learn about Kinetic Sand and an amazing partnership with Rubbermaid for Global Kinetic Sand Day.
Do you remember the first time you touched Kinetic Sand? I was wandering the aisles at a toy fair and simply couldn't put this squeezable sand down. I knew way back then that this mesmerizing compound was going to change the way we play and I'm just now learning more about the seven amazing benefits of Kinetic Sand! I want to share what I've learned and an awesome limited time collaboration.
KINETIC SAND X RUBBERMAID
Kinetic Sand is teaming up with Rubbermaid, the makers of innovative, solution-based storage and organization products, to deliver the ultimate storage solution. The limited-edition collaboration includes a 3lb. bag of Kinetic Sand in a perfectly fitting Rubbermaid container.
We had a neighbor dig in and test the set and we got a big smile from both mom and son! This partnership makes everyone happy--sand enthusiasts and organizers alike. Dig in for endless hours of creativity and then pop the lid on until the next sand session.
Seven Amazing Benefits of Kinetic Sand
Since we are celebrating Global Kinetic Sand Day, it's a great time to learn about the many benefits of Kinetic Sand play!
Easy to clean, Kinetic Sand magically sticks to itself
Easy to store in a perfectly fitting Rubbermaid container (for a limited time, while supplies last), featuring a large tab that allows for easy grip to open, and the lids have ridges for perfect stacking of your entire Kinetic Sand collection
Never dries out, so play can last forever
Physical development for children through play. Kinetic Sand aids fine motor skills including- cutting, shaping, molding, mixing, and digging 
Social and emotional development for children through the calming and relaxing sensory effects
Fosters creativity and imagination in kids and adults
Increases sensory awareness through tactile play
The Perfect Playroom Hack
Load up your creative toy supply with a few colors of Kinetic Sand and watch the imagination kick in. Kinetic Sand allows kids to have an endless amount of fun and learn along the way. 
This limited-edition Kinetic Sand x Rubbermaid bundle is perfect for all parents, because we all love toys and activities that stimulate our kids, but I've got to give a special hug to the minds behind this collab who also know many parents love to organize toys for easy mess-free play. 
As an urban parent, space is always a premium. If you live in a smaller home (like many of the NYC parents I know), you don't have a playroom. Parents know the value of toys that don't lose their appeal AND toys that don't create a huge sprawl. There's nothing worse than messy, noisy toys that end up gathering dust and heading to the landfill.
DIY Sensory Bin
Want more ideas on how to play with Kinetic Sand? Check out this idea on how to make a sensory bin.
Ready to Play? 
Head here to see the Amazon page with all the Kinetic Sand offerings. (please note, this is an affiliate link)
More Ways to Play
For even more ways to play, consider the Kinetic Sand, Sandisfactory Set. In it you'll find 4.5lbs of colored Kinetic Sand plus 10 tools and molds.
Tools and molds: 1 dome surprise mold, 2 cube stampers, 5 tools, 1 clear knife, 1 squisher, 1 squisher plate
5 COLORS TO MIX AND PLAY: Includes red, blue, yellow, black, and 2.5lbs of RARE white colored sand! Mix two or more colored sand together to create new colors! Use the tools to create surprising designs!
This is a sponsored post.