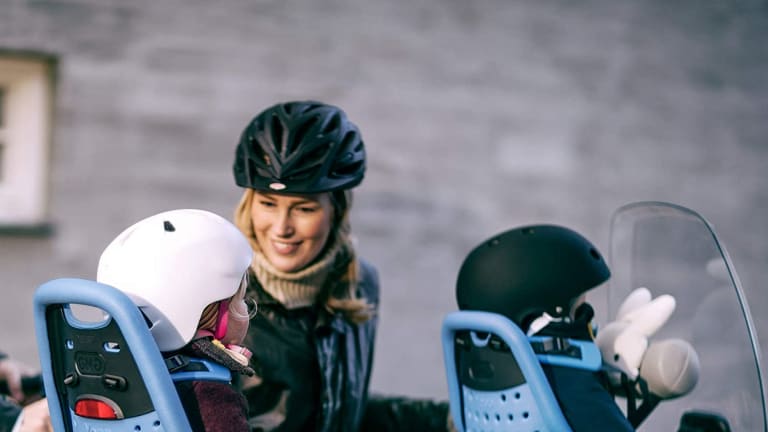 Secure and Stylish with the Yepp Bike Seat Review
The Thule Yepp bike seat is designed to carry children from 2.5 to 6 years old up to 48 lbs and works great for families.
We live near a great bike path. It's 16 miles and heads into historic areas of Lexington, Arlington, Cambridge, etc. When we used to take it, my husband and I, it was the perfect scene - boy and girl together on a romantic bike/rollerblade ride. OK, it's not really romantic. It's sweaty and hard and we're usually 20 feet apart. But you get the drift...and so do we, since the ride back home is partially downhill.
Related: Top tips to teach your child to ride a bike
Clearly we haven't done the entire thing since our daughter was born. She can't partake unless she's being powered by someone else's energy. Sixteen miles is a long way. I used to put her in the jogger stroller and Rollerblade along, but never the entire way.
Now that we have a Yepp, we can go back to the way things were--sweaty and tiring. And yes, that's a good thing.
You've seen the seats that you clip onto the back of the bike to hold a smaller child. Living in a big urban environment, this is how a lot of parents get around. I always looked longingly at those people, as I thought the years were behind us. We were going to have to wait until she learned to ride her own bike before we the family bike trips began.
Luckily the The Yepp Maxi is designed to carry children from 2.5 to 6 years old up to 48 lbs. Since our daughter is still pushing 42 lbs., we were excited that we might have another few years of the her backseat driving...which is a lot cuter than mine, I must say. Another concern was that she's tall, but the footrests adjust for that.
On to the safety of the seat, since most of the time I cringe at those rear seat baby holders because they look so unsafe. Not the Yepp. There's some serious R&D behind this. The seat complies with the most stringent European safety requirements (it's a Dutch design) and is certified by the Dutch TNO Institute for applied science research.
Here's what you do. My husband connected the seat post adapter one time and left it on his bike. Then whenever we want to hit the road, we just snap her seat into the post. There's an additional integrated lock for extra safety, that also subs as a guard against theft. As for our daughter, she's as snug as a bug on a bike path with the five-point harness with easy-to-use buckle straps.
She's also perfectly comfortable, with soft shoulder pads and shock-absorbing flexible but sturdy rubber seat. It's even antibacterial and easy to clean, features a high insulation factor, and is water resistance. You can even personalize your Yepp with colored shoulder pads and foot straps available separately.
A quick note about fitting one onto your bike: The Maxi Standard will fit 95% of American bikes with a frame size of 21 inches or larger and a seat post diameter of 1.1-1.8 inches. We found out the hard way that many U.S. bikes have smaller frames. We even had a problem with my husband's bike's brake placement on his Schwinn Ranger. So make sure you have the right bike before you install it, for safety's sake. We ended up using a friend's bike, but there are adapters you can buy as well.
Since the Yepp, we have a new M.O. - At the beginning of the path, she gets on her bike, he gets on his, and I don my blades. When she gets tired, we lock her bike up along the way, she hops in the seat and we continue on. I guess you could say that when asked will we be doing a lot of family biking this fall, our answer would be Yepp.
Get the Thule Yepp Maxi on Amazon here.
MORE KID-CENTRIC FUN FROM MOMTRENDS
PIN IT!
Need more ideas on what to do with the kids? Be sure to follow our Activities to Do with the Kids board on Pinterest here.