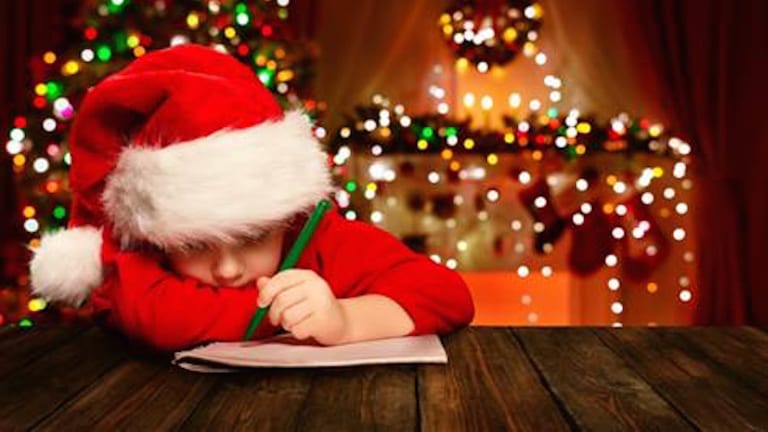 Tips on writing and receiving letters from Santa
How to let the jolly man in the red suit know what you want this year!
One of the most iconic holiday scenes has to be a child sitting upon Santa's lap sharing (in hushed voices) his big wishes of gifts to be found under the tree on Christmas morning. Santa reminding children to write to him at the North Pole, with promises of dreams come true. We sat down to write our letters to Santa and have a few tips to share. We found the featured mini clipboards, Santa notepaper and decorative stamps and made an inexpensive "Letters to Santa Stationery Kit" at Target.
Letter writing is all about the magic. (Yes, we also love that we practice our penmanship, writing skills, and strengthen our literacy, but don't tell the kids that!) We have a few fun (and tried and true) options for getting in touch with Jolly Ole St. Nick and are sharing our faves with you below.
Santa Letters
 This is a personalized letter service. Tune into the magic of the season and give your child a gift they'll be sure to treasure.  A letter from Santa will be one of the most memorable gifts you'll give this Christmas, so don't delay, order your kids a fun personalized letter from Santa today! (Santa Letters Express has several options from the full monty to more streamlined packages, choose whatever is right for you.) All of the Santa letters are printed on special holiday paper! There's only 24 days until Christmas! Head here for more details.
USPS Teams Up with Santa
Hailing from the NORTH POLE — Yes, Virginia, there is a Santa Claus — and the U.S. Postal Service can help you prove it when Santa replies to your child's letter — complete with a North Pole postmark.
Here are the steps from the U.S. Postal Service for your child to get a letter back from Santa:
Have your child write a letter to Santa and place it in an envelope addressed to: Santa Claus, North Pole. 
 Later write a personalized response. (this is the tricky part! Be careful, curious eyes everywhere!)
 Insert the response letter into an envelope and address it to the child.
 Add the return address: SANTA, NORTH POLE, to the envelope.
 Affix a First-Class Mail stamp, such as a new Christmas Carols Forever stamp to the envelope.
 Place the complete envelope into a larger envelope — preferably a Priority Mail Flat Rate envelope (don't forget appropriate postage) and address it to: North Pole PostmarkPostmaster, 4141 Postmark Drive, Anchorage, AK,  99530-9998
"Letters from Santa" must be received by the Anchorage, AK, postmaster no later than Dec. 15. Santa's helpers at the Postal Service will take care of the rest. Be sure to share the experience on social media using #LettersFromSanta
Elf Gets Into the Act
Everyone loves the Elf on the Shelf, no? Well, their latest launch is sure to be a crowd pleaser. It combines two kid-fantastic things, Christmas and crafts. Think shrinky-dinks meets Elf on the Shelf. Scout Elf Express Delivers Letters to Santa is a new kit from our North Pole friends at The Elf on the Shelf and guarantees the absolute quickest way to get a note to the big man himself. This activity allows kids to handwrite their letters as they typically would, but with a little Christmas magic. 
With a parent's help and an oven, kids are able to transform their full-sized letters and shrink them to an elf-friendly size in just minutes. The family's Scout Elf (The Elf on the Shelf) then takes the note straight to Santa at the North Pole during his nightly visit. The best part? Children won't be left ho-ho-hoping their letter have reached Santa, since they'll know the next morning when they see their Scout Elf has returned with the tiny note and left it hanging on the Christmas tree as a keepsake ornament. We love perusing the Elf on the Shelf website as it has loads of fun activities for kids and ideas for parents. 
Macy's Helps Kids Believe
To continue the message of giving, we love the Macy's National Believe Day initiative. Since 2007, Macy's has brought to life wishes that have transformed thousands of children and their families. These wishes come true through the generosity of Macy's, its associates and YOU! From Now through Dec. 24, write a letter to Santa and drop it off at Macy's or send it online at macys.com/believe. Macy's will donate $1 to Make-A-Wish for every letter collected, up to $1 million. #macysbelieve
May all your letters be answered, May all your Christmas wishes come true. Happy Writing!
More holidays from Momtrends
Pin it!
Use Pinterest to save your favorite gift ideas. Be sure to follow our Holiday Recipes and Crafts board here.
This is not a sponsored post. All opinions expressed are our own.