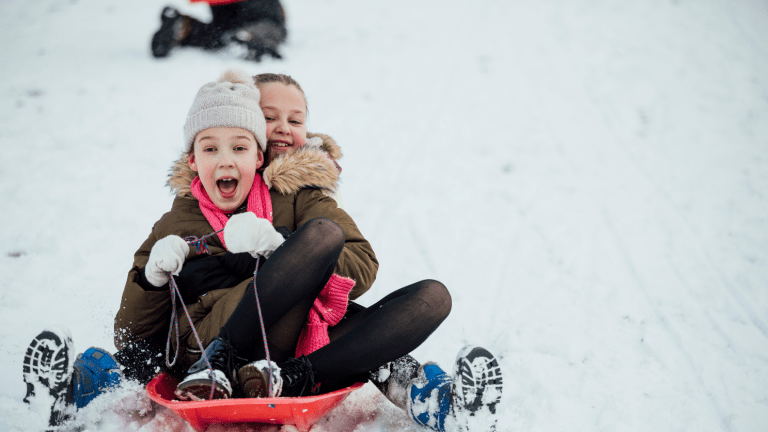 Winter Safety Guidelines for Sledding
Before you head out sledding, read up on how to make the outing safe and fun.
Everyone loves a snow day and sledding is the go-to family acitivity when the flakes start accumulating. As we head into the colder months of the pandemic, many families will enjoy this winter activity. But while it may seem like harmless, snowy fun, a new study finds that sledding comes with serious, sometimes life-altering risks. A smart mama is prepared, so please use our winter safety guidelines for safer sledding. 
Related: Snow Day Essentials
Researchers at the Center for Injury Research and Policy at Nationwide Children's Hospital found that 220,488 people were treated in U.S. emergency rooms for sledding injuries over the 10-year study period - and nearly 70% were kids. Here are some highlights from the study, which published in the Clinical Journal of Sports Medicine:
Children were almost seven times as likely to be treated for sledding injuries compared to adults.
The majority of patients (63%) were injured as the result of a collision.
Nearly 82% of children treated for a sledding-related injury sustained head injuries.
Winter Safety Guidelines for Sledding
Lara McKenzie, PhD, senior author of the study offers these five safety tips.
Wear a helmet: Properly fitted snow sport helmets or bicycle helmets are best. We like Marker Helmets. Head here for more of our favorite snow gear.
Pick your sled: Sleds that can be steered and have braking features may allow for more control than flat sheets, snow discs, tubes and toboggans. Check out our sled picks below.
Check the environment: A safe sledding environment should be free of obstacles like trees and rocks, light posts; have plenty of space at the end of the hill and be free of motorized vehicles.
Follow the rules: Always ride the sled while seated with your feet facing the bottom of the hill, and only ride during daylight hours. Teach children to roll off the sled if it is going too fast or is going to crash.
Stay for the fun: Having an adult present while sledding can prevent injuries. 
L.L.Bean Dasher ($179) L.L.Bean Artic Slider ($49.95) Radio Flyer Baby Sled ($79.99) Flexible Flyer Three-Pack $60 Snow Tube ($32.99)
More Winter Fun from Momtrends
PIN IT!
Need more ideas on what to do with the kids? Be sure to follow our Activities to Do with the Kids board on Pinterest here.
Momtrends was not paid for this post.