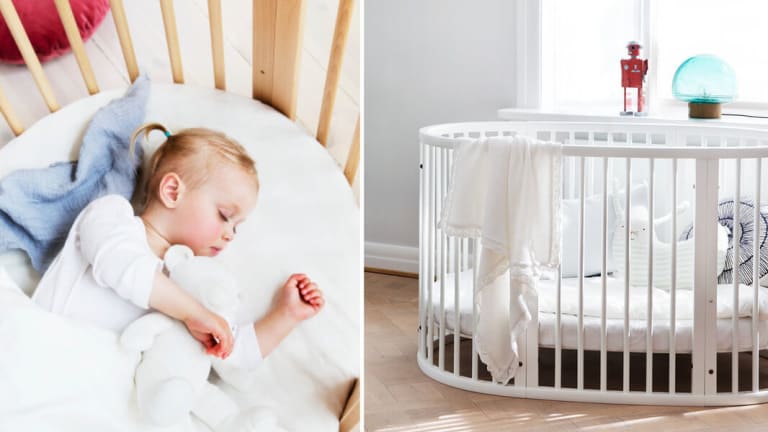 Why We Picked the Stokke Sleepi Crib System
Stokke Sleepi Crib Bed Review with videos. Sleepi Mini and Sleepi Bed Convertible system and Care Changing Table review.
We've been sharing our experience with the Stokke Sleepi Bed since before Max arrived. You've seen the Sleepi in the baby nursery area in our master bedroom, how much our baby loves napping in his Sleepi Mini and how much I appreciate my view of him. The best part? Our experience with the Sleepi has only just begun. This genius and beautifully designed furniture will grow with baby Max for years.
Related: Stokke home little nursery-with big possibilities
Stokke Sleepi Bed System
The Stokke Sleepi Bed is truly a convertible bed system for your child to use from birth. When all is said and done, it's four beds in one! Yes, it may cost a little more, but it's also going to last (and may even get passed down)

For Newborn (0 - 6 months): Stokke Sleepi Mini is a small oval nest-like bassinet for babies.
For Newborn & Baby (0 - 18 months): The Mini converts easily into Stokke Sleepi, creating a familiar environment for your baby. Adjust the height positions as your child grows.
For Toddler (18 months - 3 years): Accommodates your baby's changing development. Once your baby reaches the curious climbing stage, you can remove one side of the bed for easy access, and to boost feelings of freedom and independence.
For Junior ( 3 - 10 years): With additional parts, The Stokke Sleepi Junior is a comfortable bed for children up to around ten years old.
The Mini is not sold separately and is only available as part of the Stokke Sleepi System which includes the Mini and Bed. You can purchase the Junior Kit separately.
Why We Picked the Stokke Sleepi Crib System
A crib is one of the first major purchases parents make for baby. Our little baby Max has spent some time nearly every day of his life in his crib. Put these two things together and it makes sense that parents should spend time researching options and invest in the best choice for their family. The Stokke Sleepi is not your average crib and it's a bed system that every family should consider.
Three reasons to love the Sleepi
Unique Shape: One of the first things you'll notice about the Sleepi is the oval shape. It's an aesthetically pleasing design, but more importantly it's meant to provide a nest-like environment for baby. It's more narrow than average cribs so it's more cozy and comforting than a rectangular shaped crib.
The Sleepi is gorgeous. Just gorgeous. The crib is built for longevity of environmentally-friendly cultivated beech wood and is available in a variety of finishes to make any decor. While the design lends itself to modern decor, it's really a blank slate that will match most homes. For example, if you prefer a more traditional design, opt for the walnut brown or natural finish. If you like a modern look, go with the white or gray.
Convenience: The Sleepi Mini is convenient, too. It is on wheels so you can rock baby to sleep or move him from room to room. That's right, the Mini fits through average door frames.
What Makes the Sleepy Special
Of course, if you're investing in the Sleepi then you are also going to invest in very particular mattresses and crib bedding. The oval shape is unique and that means the options are limited. There are two options for the Mini and Bed mattresses - non-toxic traditional foam or breathable organic coir. For me, the biggest challenge and the biggest downfall of the Sleepi is the bedding. There just aren't that many options out there and bedding is a large part of nursery decor. 
Update: we've found cute sheets just for the Sleepi from Pehr and also on Etsy!
Clearly the Sleepi is the star of any nursery, but I wish there were more choices when it comes to dressing the bed. We have the Stokke Mini Bedding set in Classic White which is a wonderful neutral option, but I do plan to have some custom bedding made when my son moves into his own nursery.
Switching from the Mini to the larger Sleepi Bed is a matter of adding two pieces. The instructions to put together the Sleepi and the Care (see below) were simple and straightforward so we don't anticipate much trouble making the switch. We'll post about the transition and share photos when Max's nursery is complete.
Stokke Nursery Gear
We were so smitten and impressed with the Stokke that a few days after we set up the Sleepi we ordered the matching Stokke Care Changing Table. I am so glad we did! My husband and I absolutely love that the changing table allows you to be up close and personal with baby - no sideways, bending over to change our little guy. It's so brilliant that baby lays straight in front of us rather than sideways. 
The Care also provides much needed storage and organization in the form of two huge separated bins, two baskets and hanging area. And, like the Sleepi, the Care grows with your child and can function as a bookshelf and then a desk. Amazing!
To Buy or Not to Buy
To Buy... The Sleepi is an investment, for sure, but it's one worth making. The Stokke crib is as functional as it is beautiful and that's saying a lot. While many cribs are only useful for a year or two, the Sleepi grows with your child and can be a part of the nursery and bedroom for a decade. And with quality construction and materials, there's no doubt it will stand the test of time. Get the Stokke Sleepi here.
Or Not to Buy... The biggest weakness of the Sleepi system is a strictly aesthetic one and that's the bedding selection. We hope more brands recognize the fabulous crib and design more bedding sets to fit the Sleepi. And, of course, we do wish the price point was more attainable as it gets quite expensive when you purchase particular mattresses and bedding.
MORE BABY SCOOP FROM MOMTRENDS
PIN IT
Need more ideas on what to do with the kids? Be sure to follow our Baby Things to Love board on Pinterest here.
Thanks to Stokke for providing the Sleepi Bed System, Mattresses and Bedding. We purchased the Care.