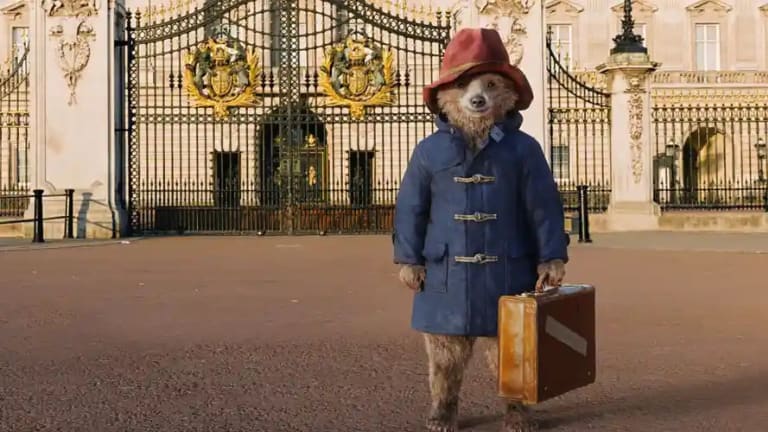 Why we love all things Paddington
Paddington has made his way from the rain forests of Peru, straight to our hearts and we're sharing a few of our favorite ways to celebrate this little bear.
Our favorite traveling bear has made his way from the rain forests of Peru, to a train station to London and is now available for streaming on two classic family movies. Since it's spring break time, I thought it a perfect opportunity to recommend these movies and explain why we love all things Paddington.  
Related: 48 hours in London with kids
The History of Paddington Bear
We first met Paddington in 1958 in the debut book, now a classic children's story, "A Bear Called Paddington" written by Michael Bond in 1958. The bear originally from darkest Peru was found by Mr. and Mrs Brown, sitting on a suitcase in the busy Paddington train station in London, England. This fuzzy brown bear had a tag around his neck saying "Please look after this bear. Thank you." The Brown family named him Paddington after the station and took him home.
The Paddington Movies
Download the original 2014 Paddington movie here
Download Paddington 2 movie here
Based on the best selling book series from over the years, Paddington, the movie, brings this beloved character to the big screen. Paddington is directed by Paul King, who also directed Harry Potter and Gravity and features Ben Whishaw as the voice of beloved Paddington. Paddington the bear is well known for his love of marmalade and his his polite and well meaning intentions that often end up taking us on hilarious adventures. Nicole Kidman plays the "villain" of the movie as a taxidermist who wants to stuff Paddington. Full of chaos, wit, British charm and of course lots of laughter, Paddington the movie is sure to be fun for the whole family.
Paddington released in the United States on January 16, 2015 and we're still absolutely loving these two movies. 
Favorite Paddington Toys 
Here are some of our favorite bear toys to share with your kids.
1. Wooden Paddington Toys ($32)// 2. Iconic Paddington bear with suitcase ($50)// 3. The Complete Paddington Collection (15 books) ($44.25)//  4. Paddington Toy Tea Set ($25)// 5. Paddington Bear suitcase ($36)
More Ways to Celebrate British Culture with Momtrends
PIN IT!
Need more ideas on what to do with the kids? Be sure to follow our Activities to Do with the Kids board on Pinterest here.
This is not a sponsored post.