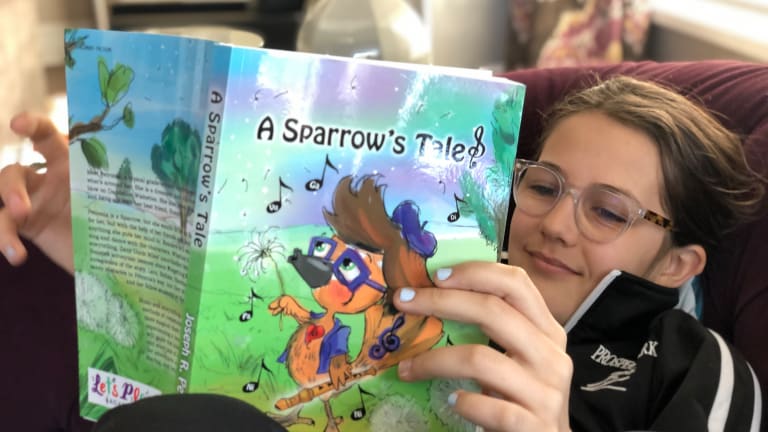 Why Middle Schoolers are Obsessed with this New Book Series: A Sparrow's Tale
Take the time to invest in the power of reading together with your kids. Sparrow's Tale offers middle schoolers a new way to dream.
It's hard to compete with screentime, but it can be done. A new book, A Sparrow's Tale, from author and musician Joe Petrucelli, offers kids the chance to reconnect with imagination and wonder. We're excited to partner with the author on an awesome launch giveaway. If you enjoy laughing together and encouraging your kids to dream BIG, this book is for you. 
Get your copy of A Sparrow's Tale here.
Related: How to create a cozy reading nook for kids
A Sparrow's Tale ignites imagination
A Sparrow's Tale is the delightful journey of a sparrow named Petronia who loves to daydream and is learning to appreciate the world around her. Petronia enjoys singing, playing music on her recorder, hanging out with her best friend Sunny, and making wishes by blowing on Dandelion Wishettes.
Momtrends Tip: A Sparrow's Tale involves a lot of characters. It's a great book to read together and stop and chat while you are reading. There are thirty-seven unique original characters and twenty inspiring songs woven into 26 original stories.
Why we love Petronia
When we were kids we all had dreams and aspirations. This book helps us tap back into that awesome energy. Petronia is a sparrow, but deep inside wants to be an eagle. The reader is along for the journey as Petronia learns to appreciate her gifts. 
Getting Kids Involved in the Reading Process
Author Joe Petrucelli loads the book with music. His goal is to ignite the inner music that lives within each and every one of us. Join Petronia on her adventures as she learns about having fun, sharing, making music and believing in yourself.
Building on the Book
In addition to the book and e-book, there's also the A Sparrow's Tale Sticker & Coloring Book (perfect for younger readers).  Set includes two sheets of stickers and 16 adventure full pages of coloring fun. Inspire creativity, dreams and storytelling fun in the classroom, at home or on the go.  
Get your copy of A Sparrow's Tale coloring book here.
Win it! 
To help spread the word about this exciting new concept, we are teaming up with the publisher on a giveaway! Note, by entering this giveaway, you will be sharing your email with A Sparrow's Tale.
First Prize Winner receives a complete set of A Sparrow's Tale Books both the colored edition book, black and white book, and coloring book AND $150 Barnes and Noble gift card.
Second Prize Winner receives a complete set of A Sparrow's Tale Books the colored edition book, black and white book and coloring book
More for Book Lovers on Momtrends
PIN IT!
Use pinterest to save your next book pick and be sure to follow our What to Read Pinterest board here. 
This is a sponsored partnership.