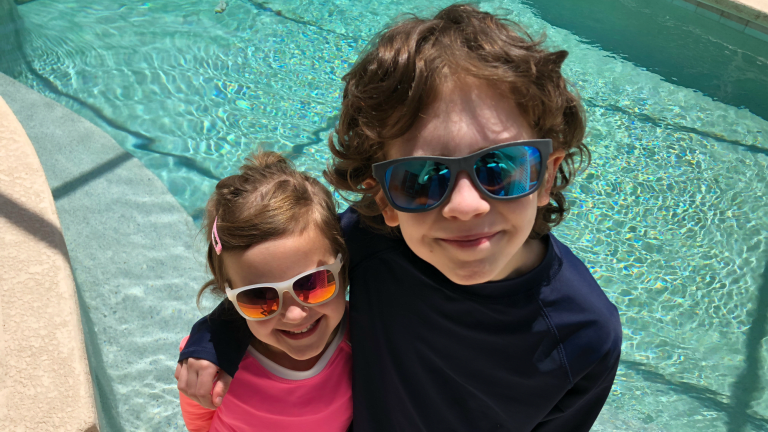 Publish date:
Why Kids Should Learn to Swim
Swimming offers developmental benefits and more to little bodies and minds...
Swimming offers developmental benefits and more to little bodies and minds...
Did you know today, May 19th, is National Learn to Swim Day? I can't think of a better way to celebrate it than to share my thoughts on why kids should learn to swim. And boy do I have some thoughts. You see even though we live in Florida, we just bought our first home with a pool. I know, I know. That's crazy right? Thing is, the last time we were house hunting, I was pregnant with my first child and terrified by the prospect of my baby being around a pool. Well, fast forward like a decade and I'm more of a seasoned mom now. I fully recognize that the benefits of having a pool far outweigh the drawbacks! So, let's talk about why kids should learn to swim...
Why Kids Should Learn to Swim
1. Developmental benefits...Sure, there are physical benefits for children who swim, but did you know there are mental benefits too? Swimming can also aid in the development of math, oral and social skills! Don't worry if you didn't realize that. Swimways actually conducted a study and found that while most parents recognized how good swimming was for their kids physically, many didn't realize the mental impact it can have!
2. Safety...Here in Florida nearly every birthday party seems to be a pool party. We have, no joke, been to one every weekend for the past month. So, even if you don't have a pool at home, it is pretty much a necessity that our kids learn how to swim at least by the age of five but many learn far earlier. My son started lessons when he was two and he swims like a fish now!
3. FUN...I'm all about kids staying active and having something right out back that encourages them to move those little bodies every single day is priceless. If they're having fun, they're less likely to think of exercise as a chore. I guess the same could be said of us grown-ups too right? Plus, the more they practice, the more confident they become with their swimming and the more fun they have!

Sleep hack to give moms a more restful night
Looking for a life hack to get better sleep? Here's my go-to sleep hack to give moms a more restful night: get better pillows. Thanks to perimenopause, my sleep has been interrupted and I was finding it hard to get back to sleep after my 3am wake-up. I lowered the temperature in ...read more
Our Best Brow Tips
If you've been on TikTok at all in the past couple of years, you know that full brows are where it's at. Sure, the 90s are back, but thankfully, the kids left that decade's overplucked brows trend good and buried. Now even if you don't have the naturally full brows you once did, ...read more
5 Pretty Ways To Organize Your Jewelry
I admit - I'm guilt. Despite my best efforts, my "jewelry drawer" has become a tangled mess of necklaces, bracelets and earrings. This cluttered collection not only makes it hard to see what I have, but difficult to untangle the pieces I do want to wear! This summer, I'm ...read more
* On a side note...Having swimsuits they dig definitely helps when it comes time to hop in the pool. Snapper Rock has been a go-to swimwear brand for my family for years. The kids love picking out their new suits each year and this year, in particular, they chose the cutest prints! My daughter, for instance, went for the Diamond Classic Swimsuit and Swim Sport Shorts, while my son zeroed in on the Cabana Palm Pool Boardie. They've already been having a ton of fun in their new suits and the swim season has just started!
Now in addition to swimsuits they're excited about putting on, I always have sunglasses and long sleeved rash tops, neon for her navy for him, on hand to help protect their eyes and skin against the sun's wicked rays! Babiators are always a fab choice. Baby girl won't take off her pink Navigators and my little dude is really into his Aces shades! Not only are the mirrored lens styles super cute, but they don't have to worry about squinting ruining their swimming fun!
So, if your kiddos haven't quite learned how to swim yet, there's no time left like the present. By giving them the gift of swim lessons, you will open up a whole new world to them!
For even more swimming inspo, check out our take on why swim team rocks!
We were not paid for this post.