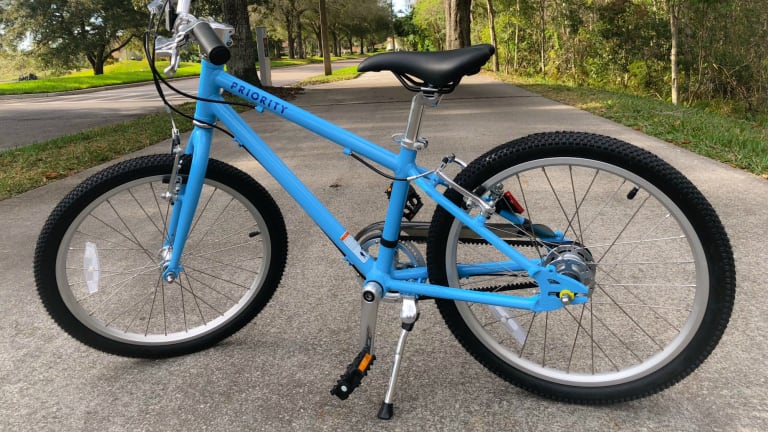 A week into our holiday break and it really hit me why kids need to spend more time outside. Let's talk about bike rides together! When I leave mine to their own devices inside, they get bored...and they get bored fast. That is unless they have screens in front of their faces. And, frankly, there's been way too much of that this vacation. I get it. They got some new gadgets and they're simply more alluring than the traditional toys they also received. That doesn't mean I'm ok with a tech time free for all. It's time we set the screens down and really enjoy the time off we have together. Kids today are simply faced with more inside options than we were. So, it's up to us parents to show them that playing together in the great outdoors can be just as fun!
Bikes are a great way to do that. They've certainly stood the test of time. And they're sure fire way to convince your kiddos that it's time to go outside. But it doesn't have to end there. If you have your own bike, you can bike together as a family. These days are fleeting. Soon our kids will be teenagers and maybe not as keen on going for a bike ride with mom, so let's take advantage of this time while we have it! In fact, I'm going to share some mommy-and-me bikes with you today that just might inspire both your kids AND you to get outside stat. And I'm also going to share a couple of our favorite things to do on family bike rides in case you need some inspiration! Because bike rides together are simply the best!
Bike Rides Together
First up, let's talk about these bikes. Priority Bicylces are as well made as they are pretty. My baby girl is thoroughly enjoying her very versatile Priority Start 20" "big kid" bike. It allows her to take longer and more challenging rides which is great now that she's learning to let the old training wheels go. This sweet ride is a part of Priority's Start series and it comes complete with larger 20" frame, Shimano 3-speed gear system with grip shifter, hand brakes, and multi-terrain tires, along with the low maintenance features Priority is known for like a grease-free Gates belt drive and lightweight aluminum frame. And my bike is just as cool. The Classic Plus is comparable in features  to the kids' bike and comes complete with a belt drive, aluminum frame, 3-speeds, etc. Together, they're perfect for family rides!

Five Tips for the Perfect Pumpkin Patch Visit
It's that time of the year again...pumpkin patch time! While I love a nice Pumpkin Spice Latte as much as the next fall lovin' girl...for me, the season is all about spending time with my family...and hopefully that time is spent outside as much as possible. If you're headed out ...read more
Perfect for Fall Pumpkin Spice Dirt Bomb Recipe
Get your pumpkin spice fix with this tasty dirt bomb recipe. Unlike fried donuts, this recipe is a little lighter and, since no hot oil is involved, a lot less messy. These dirt bombs, or baked donuts, are irresistible cakey muffins that are spiked with nutmeg and ginger, and ...read more
Save Money at a Ski Swap
Are the slopes in your future? If you want to save money on ski gear, consider a ski swap. A swap is a great way to buy and sell used equipment. Most swaps consist of a variety of gear, from brand new to used skis and snowboards to skis; from poles to boots to bindings and ...read more
Speaking of family rides, let's talk about some of the things we like to do when we're out on our bikes. A nature ride is always a hit. We live next to a nature preserve that has an incredible trail that's wide and smooth, just what a mom wants when she's trail riding with kids! We also love to ride our bikes to our neighborhood park/playground area for a picnic. I've found that if there is some sort of goal at the end of our ride, my kids are even more excited to get out there!
And if you aren't sure why kids need to spend more time outside, head over to The Child Mind Institute. According to them, "The average American child is said to spend 4 to 7 minutes a day in unstructured play outdoors, and over 7 hours in front of a screen." I don't know about you, but that simple doesn't work for me. They'll likely be spending that much time in front of a screen when they're working adults. Just think how important balance is to us? We feel it when we work too long in front of our computers. Our bodies thrive when we get much needed activity in. Kids need that even more! Now who's ready to take some bikes together?
For more outdoor fun inspiration, check out our family ski and snowboarding guide. Even when the snow prevents bike riding, there is plenty more to do outside!
We were not paid for this post. We did receive samples.