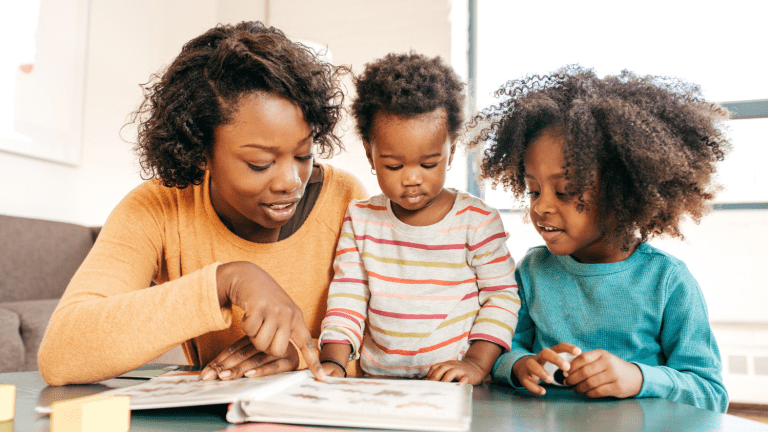 Publish date:
Why It's Important for Parents to Read to Children
Family resources to help make reading a priority and a list of fun websites to help bring books to life.
Family resources to help make reading a priority and a list of fun websites to help bring books to life.
Read Across America Day is coming up this week. If you're like our family most days begin and end with books, but other families aren't so fortunate. Time, money and lack of education all come into play.  We're sharing resources to help make reading a family priority and facts about why it's important for parents to read to children.
Related: Five favorite activities and crafts to celebrate Dr. Seuss
Why Reading Matters
According to research, a parent's positive attitude toward reading can encourage a child to develop solid language and literacy skills. Even more powerful and helpful to the child's development is if they read aloud together.
Here's what the studies say: "Reading aloud to young children, particularly in an engaging manner, promotes emergent literacy and language development and supports the relationship between child and parent. In addition, it can promote a love for reading which is even more important than improving specific literacy skills."
According to the National Literacy Trust: Parental involvement in their child's literacy practices is a more powerful force than other family background variables, such as social class, family size and level of parental education, while reading enjoyment is more important for children's educational success than their family's socio-economic status.
How Much Reading
It's never too late or too early to start reading to your child. You can start as early. Even newborns will love the sound of your voice--no judgements from them! As your child grows, increase the reading time. A good rule is to get a child between the ages of five and seven to read for 30 minutes each day. The time can be increased as the child gets older. 

Get Ready for Summer Tea Collection Sale
Even if we all have to stay local, summer is going strong. As you head to the pool or day camp you might have noticed your kids GREW during the past year. Just in time for summer, Tea Collection is rolling out a big deal on swimwear and graphic tees for kids. I've enlisted some ...read more
The Key to a Great Overnight Oat Recipe
Working moms know the importance of meal planning. I'm getting ready for busy few weeks and I've been perfecting my fast breakfast options. I've been using Bob's Redmill Organic Steel Cut Oats to prepare my overnight oats for a nice, cold breakfast in the morning and I'm going to ...read more
Morning Sickness Relief with Sea-Band Mama
While pregnancy is this amazing and beautiful time in a women's life, it is also one that can wreak havoc on the body. From morning sickness to discomfort to cravings, the body that you once knew so well becomes this vessel for your baby. Of course, this is all worth it but ...read more
Reading Resources for Parents
Ready to dive in? Here are some websites that can help.
With March 2 marking both Read Across America and Dr. Seuss' Birthday, we can't think of a better time to talk about embracing reading. We hope these resources help.
And one last tip, try to create a space somewhere in your home that's just for reading. Check out our reading nook ideas here.
MORE KID-CENTRIC IDEAS FROM MOMTRENDS
PIN IT!
Use Pinterest to save your favorite family travel destinations to help inspire your next trip. Be sure to follow our Crafts & DIY board here.
Momtrends was not paid for this post. We simply love reading.