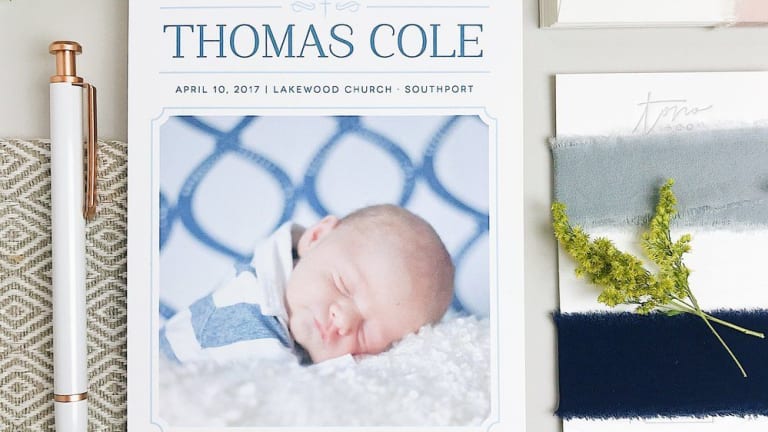 Where to Find the Cutest Baby Announcements
Basic Invite is one of the few websites that allows customers almost unlimited color options with instant previews online.
Hurray the baby boom is happening! If there's one thing that makes me hopeful about the world, it's NEW BABIES! They are such a source of joy and hope and I am always so excited when I get an adorable note in the mail announcing a new bundle. Here's how to find the cutest baby announcements --head to www.basicinvite.com and start customizing your design to spread the love.
Momtrends Discount Code: 15% off with coupon code: 15FF51
Picking the perfect baby announcements
When picking the perfect baby arrival announcement you'll want to consider a few design elements. 
Photos: Do you want to include a photo? Many families personalize the announcement by including a precious new baby picture.
Holiday theme: Depending on when your bundle arrives, you may want to include a holiday color theme. For example, many families keep things simple and do Christmas birth announcements in lieu of traditional Christmas cards.
Colors: With Basic Invites, you can customize with nearly 200 color options. That means you can select the perfect twin baby announcement design and then make it your own by adding your preferred color choices.
The Cutest Baby Announcements
Let's talk about how important color is. The right color makes your design stand out. Basic Invite is one of the few websites that allows customers almost unlimited color options with instant previews online. Once you select a design, you can change the color of each element on the card. With over 180 colors to choose from, the invite is sure to be exactly how you want it. 
Right now foil designs are very trendy.  Basic Invite has foil card designs available in gold, silver, and rose gold. Pick from flat or raised foil on all of Basic Invite's foil designs.
Stress Free Orders
Not ready to commit? Why not get a sample sent to you. Basic Invite is one of the few websites that allows customers to order a printed sample of their actual invitation before they place their final order. You can see the paper quality and how it will print, and make sure the card is perfect.
Tips for your Addressing baby announcements
Every detail is thought out on the baby announcement design. Basic Invite has over 40 different envelope colors to choose from. With so many options, you can make their envelope match the announcement. 
Now that you've selected the perfect design, all you need to do is gather your contacts and print out your labels. Basic Invite offers an address capturing service that allows customers to share a link on Facebook, Twitter, Instagram, or any other social media to request their friends and family's addresses. The addresses are stored in the customer's account and can be selected during the design process. 
Basic Invite offers recipient address printing at no cost on all card orders. If you want to label your own cards, there's good news: the envelopes are all peel and stick, making the stuffing a breeze. 
Momtrends tip: Order pre-printed return addresses on the envelopes!
Once you've finalized all the details, the designs print in a flash and most orders are shipped in about a week, rush delivery is also available. 
Ready to order? Use code 15FF51 for 15% off at www.basicinvite.com
This is a sponsored post.