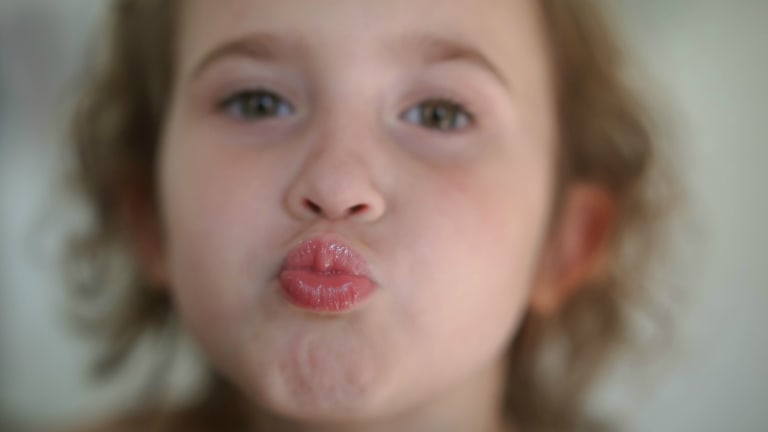 Publish date:
When Should You Let Your Child Wear Makeup?
Have you been wondering when should you let your child wear makeup? You aren't alone! This mama has been pondering that question for a while now...and I don't even have a tween on my hands yet.That being said, I swear my baby girl came out of the womb dying to dig into my makeup bag. She was barely walking before we had our first eyeliner all over the face incident. Lipstick all over the face obviously followed. Bwah! In fact, my little makeup bandit has dug into my products more than a few times in the past few years no matter where I've hidden them. She's crafty that one. And even though I kept explaining to her that makeup was something big girls wear, all my attempts seemed to backfire. She only wanted my makeup more.
Should You Let Your Child Wear Makeup?
And that's how things went in our house until it was time to get ready for my daughter's first dance recital...She was allowed to wear some makeup to brighten up her face for the stage and you would have though it was Christmas. She was deliriously happy as I applied it. It was right then and there that I realized that perhaps I had been fighting her makeup lovin' ways too hard. By making makeup taboo, maybe I was making it more interesting. So, we settled on a compromise. If she agreed to stay out of my makeup, I would take her to get some of he own. I only wish I'd thought of this sooner...
We ended up picking up a few tubes of clear lipgloss. You know what? Just that little bit of gloss, made all the difference. By loosening up the reins a bit, I made makeup more accessible and by making it less off limits, her obsession waned. Sure, she still love all things girly, but I haven't found one of my Bobbi Brown lipsticks used up thanks to one of her makeover seshes in ages. She knows that she has her own lip gloss that she can turn to when she wants to play, so she leaves mine alone. I had been holding on so hard to the belief that she shouldn't even be looking at makeup at her age, I was oblivious to this fairly simple solution that we both feel great about.

So, in conclusion...My answer to the when is it ok to let your daughter wear makeup question is when it feels right for your family. There is entirely too much judgment thrown at parents these days and makeup doesn't need to be another one of those situations that makes you feel like your failing. My opinion is, a little bit of gloss isn't going to contribute to your child growing up too soon. A full face of makeup is another story. Now I get that what works for our family might not work for yours, but if you're willing to try my way, you just might see the end of the makeup tug of war you and your kiddo have been engaged in!
For more parenting tips and tricks, check out my thoughts on why special needs moms need me time!
We were not paid for this post.