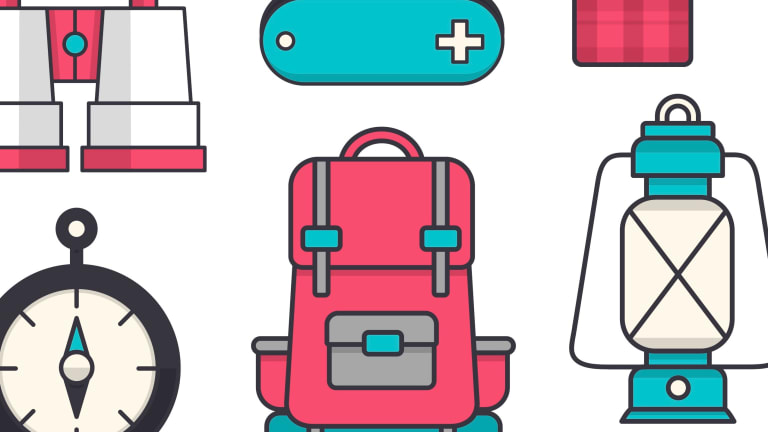 Welcome to the Summer of Camp Mom
Weekly activities to help stay at home parents get through a summer without.
What are you going to do with kids this summer? Across the country, day camps and overnight camps have been shut to help stop the spread of COVID-19. We're here for you. Each week we will be dropping a week's worth of ideas to get you through summer. This list is exclusively for Momtrends readers.
Momtrends Online Summer Camp
Sign up here to get the weekly email with all the details. We'll be dropping them on Sunday. Look it over and plan your week.
Sign up for your weekly email here. 
Week 1 Camp Mom
Family Fun: Kick off your summer with a Family Camp Out. Our night of fun is suitable for even families who live in cities. We've got a craft, snacks and set-up ideas. All you need to do is bring the ghost stories (not too scary please). Ready to party? Get all the details for planning here.
Move: Make an obstacle course. Here are three videos to get inspiration: Video 1 // Video 2 // Video 3 (an indoor course) // Items to use for set up include balls, pool noodles, chalk. For a chalk course, see the image below from www.bjcschooloutreach.org. We like adding these inflatable tires inspire such creativity. Antsy Pants strikes again. Get them on Amazon here. Or you can get a water course here (check out our review here).
Learn: This week tackle the basics of chess. Even the littlest members of your family can figure out how the different pieces move. Start with the basics from wikihow here. This is a perfect time to enlist the help of grandparents or an older friend (with loads of patience). Set up a weekly zoom call remote game time. Now is a great time to get one-on-one online chess classes with a live chess coach from the comfort of your own home. With online lessons, the classes are not pre-recorded but individually differentiated for your child. Students will meet with a chess tutor via video chat and the lesson is conducted over an interactive chess board that both the student and the chess tutor can move.The Deal: Take 50% Off Online Private Chess Lessons at CertifiKID.com! Ends 6/28 
First Chess Sets: Moma // LEGO Pirates chess set // Travel Chess Set.  Bonus idea: For older kids (8 and up) show them the movie Queen of Katwe.
Create: Make a terrarium. Yes, you can buy a kit Teen Terrarium // Kids Dino Terrarium 8-11 // PreK Kit // but why not make your own? Our current favorite is this air plant craft that requires only 5 items to make. Get the air-plant-terrarium instructions here. 
Service: Write a letter to thank a teacher. We've made it super-easy with these printables. Either the Mad Libs version or the fold over note can be uses (fold over notes are great for little guys who don't write yet. After you've finished, instruct kids on the proper ways to address an envelop (click here for details) and make a trip to the post office to mail the cards. Of course, you can use your own paper too. 
Watch: Believe me, I'm not against screen time, especially when kids are learning a new skill. This week, set up some monster meditation for your kids (ideal for Pre-K). For older kids, try the Headspace app. They've got meditation for different age groups. Check it out here. 
Cook: This week, teach the kids to make homemade pizza. For toddlers, try this Quick and Easy Pizza recipe. For older kids, make your own crust.  Pick your flour then add 3 cups to one cup of greek yogurt. Add in a little water if you need more moisture or a little more flour if you need it thickened up. Mix together until you can form a ball. Refrigerate the dough for an hour. Then use it to make your pizza! Pick your toppings and create while you preheat oven to 475. Once you are done with the toppings, bake for 12-15 minutes. (More recipe details here). For a more traditional recipe with yeast, go here.
Visit: Many of our favorite museums have set up virtual experiences, and we'll be highlighting these fun "virtual visits" this summer. This week take a visit to https://www.neaq.org/visit/at-home-events-and-activities/. They daily presentations are posted on Facebook every day at 11 am follow along here www.facebook.com/NewEnglandAquarium. I loved watching the Sea Dragon live demo. June 19th they will host a drawing class with Maris Wicks on Cephalopods! Get the details here.
Welcome to Momtrends Summer Camp
What will you get every week? Here's a look at our offerings each week. You've got to sign up to be linked to all the resources from Camp Mom this summer. Sign up for your weekly email here. 
Family Fun: A party idea or theme night for the whole family.
Move: An idea to get kids moving
Learn: A prompt to learn a new skill
Create: A weekly craft project
Service: Ideas for giving back to your community
Watch: Online resources for kids to give mom a break
Cook: A Recipe to try with the kids
Visit: Inspiration for a virtual visit
MORE KID-CENTRIC FUN FROM MOMTRENDS
PIN IT!
Need more ideas on what to do with the kids? Be sure to follow our Activities to Do with the Kids board on Pinterest here.
Momtrends was not paid for this post.