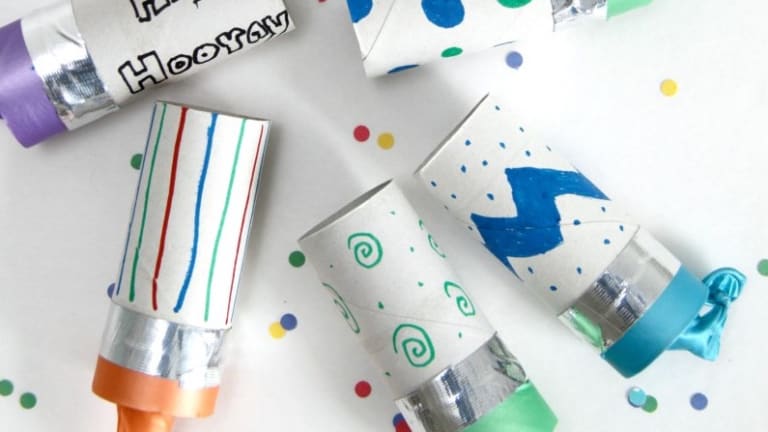 Weekend Craft Ideas: Confetti Popper Toilet Paper Tubes
This fun confetti popper toilet paper tube project is great way to upcycle empty toilet paper tubes into a fun summer craft
Looking for a fun craft for the weekend? We discovered this fun Confetti Popper Toilet Paper Tubes from Elmer's and the craft blogger, Smashed Peas and Carrots. They are a great way to upcycle empty toilet paper tubes into a fun summer craft perfect for small hands to make and decorate! They are perfect for a birthday, weekend craft or New Year's Eve.
Related: Homeschool project reviving letter writing
Confetti Popper Toilet Paper Tubes Craft Supplies
Empty toilet paper tubes
Standard size latex balloons
Scissors or rotary cutter and mat
Duct tape or other strong tape
Elmer's Painters® Paint Markers
Construction paper or colorful scrapbook paper
Hole punch
Confetti Popper Toilet Directions
Knot the open end of each balloon like you would if you had blown it up with air.
Cut each balloon in half using a pair of scissors or a rotary cutter and mat.
Take the knotted half of the balloon and stretch it over one end of a toilet paper tube. Secure the balloon with a piece of duct tape.
Now, the fun part! Decorate the toilet paper tube using the paint markers and your creativity.
Punch holes in the construction paper with the paper punch.
Fill the Confetti Poppers with the paper circles.
Holding the Confetti Poppers upright, pull down on the knotted end of the balloon and let go. The springing action will send the paper circles flying!
We can't be there to help with the clean up, but trust us, it's worth it. This easy weekend craft keeps kids busy and requires minimal supplies. Enjoy!
MORE KID-CENTRIC FUN FROM MOMTRENDS
PIN IT!
Need more ideas on what to do with the kids? Be sure to follow our Activities to Do with the Kids board on Pinterest here.
Momtrends was not paid for this post.