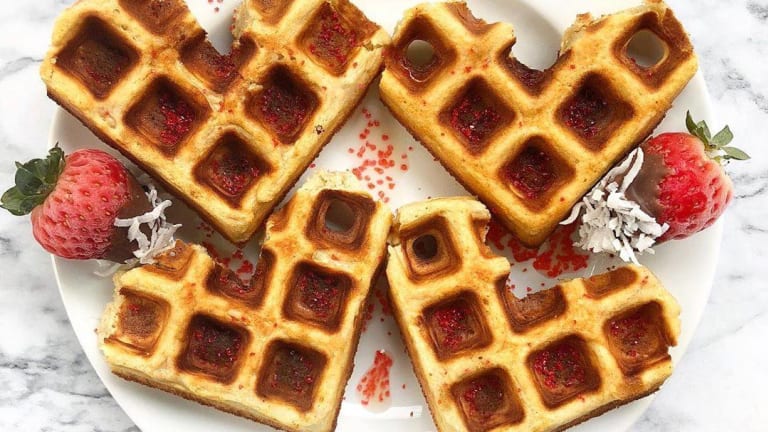 We have started our back-to-school routine, which means our weekends are extra special. Since breakfast is generally quick during the week, I love that I can cook something more substantial and hearty for my family on the weekend. One of our favorite breakfast foods is pancakes and our recipe just got a healthy makeover thanks to mix from FlapJacked Protein Pancakes.
Related: 10 hearty breakfast recipes to make in the winter
Created by Jennifer and David Bacon, parents of five, these pancakes feature a fiber-rich breakfast option that is made with whole-grains, whey protein isolate and real fruit juice, these pancakes include 15-17 grams of protein with only 200 calories. Over the course of a few weekends we tested out their different varieties (Buttermilk, Cinnamon Apple, and Banana Hazelnut) with our favorite being the Cinnamon Apple that was a delicious blend of apples, oats, and quinoa that is also loaded with vitamins and minerals. The whole family loves this rich taste that also includes cinnamon to balance blood sugar that also does not have any GMOs, preservatives, artificial colors or artificial flavors.
Besides the taste, my favorite part of the pancakes was how easy it was to make! All I had to do was add water, mix it and cook! Great for families and parents who want a treat (without the extra calories), FlapJacked is a satisfying, healthy and delicious treat that is also balanced to fuel your body!
As Jennifer noted, We not only love our active lifestyle, but we also love to eat! We look forward to the weekend mornings of pancakes but are never sustained and always feel that sugar carb crash an hour later. We have also been frustrated with not finding easy, healthy and nutritionally balanced meal options for our morning rush. Through trial and error, we have developed a healthy --just add water--protein pancake mix that uses whole grain ingredients, is lower in carbohydrates, high in protein, has a significant amount of fiber, tastes fantastic and one that will sustains us through our next meal!
Find out more at www.flapjacked.com
"
MORE FOOD FEATURES FOR YOUR FAMILY FROM MOMTRENDS
PIN IT!
Use Pinterest to save your favorite recipes. Be sure to follow our Kid Food Pinterest board here.
Momtrends was not paid for this post. We were given a sample.