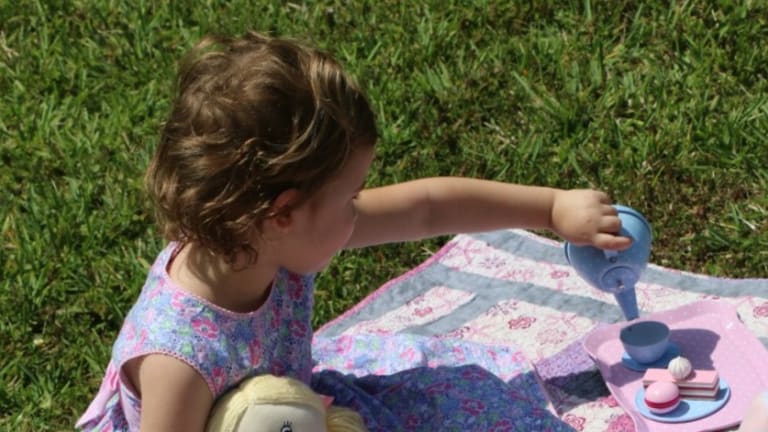 What to Wear to a Tea Party
Come see our favorite picks for what to wear to a tea party. From sweet dresses to darling shoes and even tea sets, we've got your little girl covered!
Besides watching my daughter twirl away in ballet class, which is just as amazing as I imagined it would be by the way, one of the things I most looked forward to when I found out I was having a baby girl was all the TEA PARTIES I just knew I would have with her! Pretend tea parties with my mama were such a wonderful part of my childhood and I've reveled in the magic that has come from now having them with my own daughter. The only difference is hers are a whole lot fancier. Haha! They sometimes even require wardrobe changes. What can I say? She loves playing dress up as much as Mommy does. What to wear to a tea party is just as important as what to serve!
Related: Throw a tea party birthday
Throw an Everyday Tea Party
So, when we received some new tea party gear from Jojo Maman Bebe, we knew it was time to put some of her favorite spring and summer finery in action too. Her Jessica Rag Doll was the perfect guest to serve Macaron and Slice Toy Play Cakes to on her Dotty Tin Tea Set. I can't speak for Jessica, but she certainly looked like she was having a good time at our daughter's al fresco tea party. I mean I wouldn't mind noshing on one or two of those macarons myself. Just sayin'.
Tea Party Fashions for Girls
As far as my little lady's wardrobe goes...For her first look she went with a lovely floral frock. Pink is always popular in our house, so the Meadow Print Pretty Dress and Canvas Shoes, also from JoJo Maman Bebe, were obviously big hits with her. I think I've mentioned before how much she loves to twirl...and this is definitely a twirl worthy dress! And it's definitely a perfect pick for what to wear to a tea party!
Next she donned a Paper Girl A-Dress in a lovely Flower People print. She was immediately enamored with her "fairy dress" as she called and and just had to show it to her party guest, otherwise known as Jessica the doll. Haha! The perfect finishing touch to this tea party ready ensemble were a pair of EMU Australia Little Creatures Rabbit Ballet shoes . And if you love the dress as much as we do, you should take a look at their other gorgeous offerings.
MORE KID-CENTRIC STYLE PICKS FROM MOMTRENDS
PIN IT!
Need more ideas on fashion for kids? Use Pinterest to save your favorite fashion finds for you and your kids. Be sure to follow our Kids Fashion and Style Board here. 
Momtrends was not paid for this post. We did receive samples.