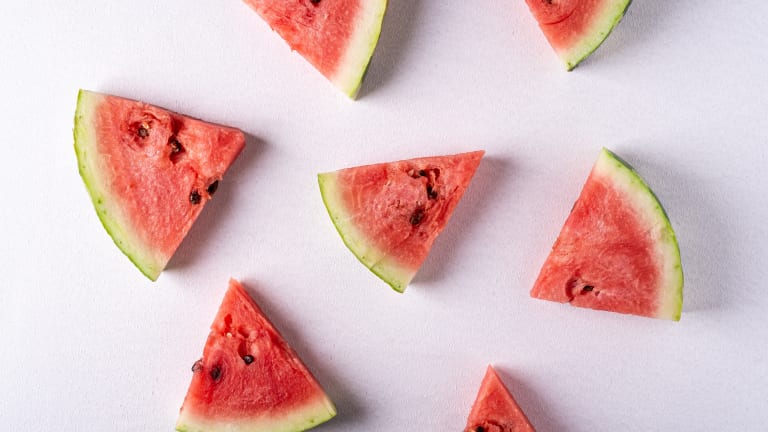 I never pass up a good mommy and me fashion opportunity. I know the days of me being able to convince my lil' lady bean that coordinating her outfit with her mama's are numbered, so whenever I can come up with a cute theme that we can both rock, I go for it! And with watermelon being one of our favorite summer treats, mommy and me watermelon outfits seemed like a natural fit for this mother and daughter duo. Plus, with National Watermelon Day being tomorrow, I know we won't be the only ones saluting this delectable fruit!
Related: Cutest watermelon summer gear
So, when it came time to put together our watermelon outfits, I started with my daughter's look first. My mom picked up this darling Gymboree watermelon bedecked tank and shorts set earlier in the summer and it looked just darling with her metallic Freshly Picked moccasins and neon headband from The Children's Place. She's finally accepting headbands again...Can I get a hallelujah? We went through a stage from 2-3 years old where it was a major battle to get her to don hair accessories. Haha! I'm thrilled she's allowing me to accessorize her without a fight. It's the little things...

Now for mama's look...I picked up this fabulously versatile black maxi at TJ Maxx and thought it would be the perfect partner for my new Bando watermelon cooler bag. Yes, I said cooler bag, but I rocked this fabulous watermelon bag as a tote. That's how I roll! I mean, how CUTE is this bag? It's so fun and whimsical. Plus, it's totally multi-purpose. I better watch out though, because a certain someone clearly has her eye on it too, but I digress...I finished up my watermelon outfit with bright beads and metallic sandals.
So, are you feelin' the watermelon trend too lovelies? Are mommy and me watermelon outfits in your future?
MORE KID-CENTRIC STYLE PICKS FROM MOMTRENDS
PIN IT!
Need more ideas on fashion for kids? Use Pinterest to save your favorite fashion finds for you and your kids. Be sure to follow our Kids Fashion and Style Board here.