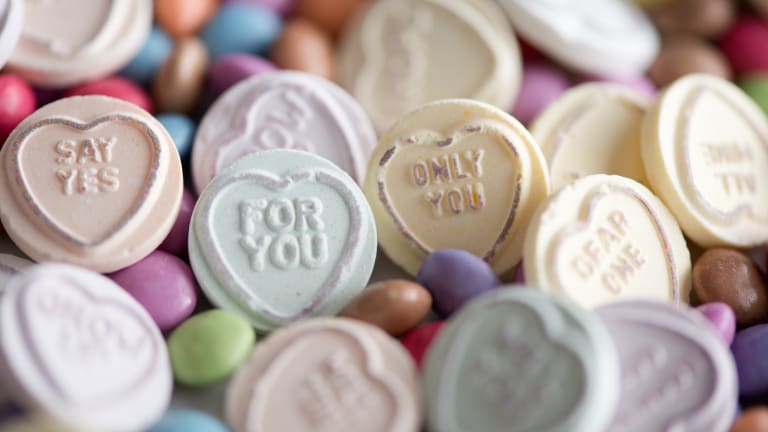 Publish date:
5 Fun Valentine's Day Ideas for Kids
Celebrate your little sweethearts with these Valentine's Day treats and crafts...
Who wants to hear about some fun Valentine's Day ideas for kids?! I knew you would... Now I love any and all holidays, but Valentine's Day is one of my very favorites. It's probably because my mom always made such a big deal out of it when we were growing up. Not only did she always give my sister and myself special surprises on Heart Day, but she always made it a point to have fun Valentine's Day crafts and treats on hand leading up to the big day too. Now that I'm a mama, I love doing all of that for my own kids as well. And I bet I'm not alone. So, on that note, here are some of my favorite fun Valentine's Day ideas for kids!
Valentine's Day Treats for Kids
With limited time and not a lot of money, we've come up with five ways to spread some love on Valentine's Day.
1. Create a Sweet Treat
Candy Sundae...This darling DIY uses chocolate candies to create a "sundae" that could also serve as a Valentine's Day treat AND gift for your kids or any chocolate lover in your life really.
2. Bake Something with Love
Conversation Heart Brownies...Do you have a heart cookie cutter at home? Then you can make these easy-peasy Valentine's Day-ready brownies in no time. What a great way to use up those leftover conversation heart candies too!
3. Dip Your Fruit
Chocolate Covered Strawberries...If there is one fruit my kids will ALWAYS eat, it's strawberries. And cover them in chocolate? These pretty little treats won't be safe from them or ME. Just sayin'.
4. Get Crafty for Valentine's Day
Superhero Valentine's Day Cards...I bet more than one of you have a superhero fan at home. This is the perfect Valentine's Day DIY for them! Plus, it takes the pressure off mom. It's Pinterest worthy with minimal effort. Bwah!
5. Whip Up Some Printable Fun
Tic Tac Toe Valentine Printable...This printable is a craft, game and Valentine's Day card all in one. I mean who doesn't love a good old fashioned game of Tic Tac Toe?!
So, now that you've seen our Valentine's Day ideas for kids, don't you want to get going on planning your own V-Day surprises? If you make celebrating it with your kids a tradition, I promise they will remember long after their childhood is over. I did!
MORE WAYS TO MAKE IT A HAPPY VALENTINE'S DAY!
PIN IT!
Be sure to follow our Valentines board and pin your favorite ideas.
We were not paid for this post.