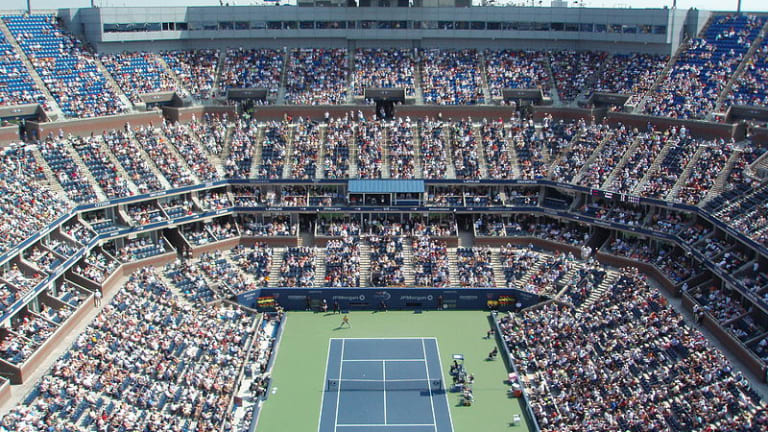 If you are an American tennis-lover, you've likely known that Labor Day is dedicated to watching the US Open in Flushing Queens. I've been to the event a few times and it's awesome. This year will be a little different, and we're staying up to date on the event and family opportunities.
Related: Family visit to Hudson Yards in NYC
Information about the 2021 US Open
This year the US Open will take place from August 30th to September 12th, 2021. This year the event will take place without fans. 
The United States Open Tennis Championships harkens back to 1881 is a hard court tennis tournament and part of tennis' Grand Slam. This will be the first year without a crowd, but I know it will still be wildly popular on TV.
As the New York area continues its reopening, the hope is that fans are permitted back into the stands this year. 
Get more details about the event here www.usopen.org
Ballperson Tryouts for US Open 2021
NOTE: Applications will close on Wednesday, June 16 at 5 p.m. and successful candidates will be contacted shortly after.
The US Open team will be selecting a designated number from the applications to attend an in-person tryout.
To be considered for selection you must:
be at least 16 years of age
be available for qualifying (Tuesday, Aug. 24 to Friday, Aug. 27) and main draw (Monday, Aug. 30 to Sunday Sept. 12, 2021)

Save Money at a Ski Swap
Are the slopes in your future? If you want o save money on ski gear, consider a ski swap.  Connecticut  Ski Sundown SKI SWAP 2021. The Sundown Ski Patrol Ski Swap is one of New England's largest and longest-running swaps. Held in the Ski Sundown base lodge, you'll find a large ...read more
The Ten Best Wooden Play Kitchens For Kids
Cooking is a timeless fascination for children. This type of play goes beyond gender and teaches kids loads of life skills along the way. An investment in a play kitchen is money well spent, as it can provide hours of entertainment. We've rounded up the ten best wooden play ...read more
New Victory Announces a New Season of Shows
We know you're busy planning picnics and summer outings, but we wanted to let you know that The New Victory just announced their new season and it looks fantastic. We thought you'd like a sneak peek of what's in store! Each year the New Vic theater brings culture to tourists and ...read more
Benefits of being a US Open Ball Person:
having an amazing summer job
Each Ball Person will be paid $15/hour and a normal day is approximately 8 hours, which includes a meal break
Polo Ralph Lauren uniforms are supplied and can be kept at the conclusion of the event
being part of a unique team
sharing the court with the world's best tennis players
If you are over the age of 16 and think you have what it takes to be a US Open Ball Person, apply below. 
Normally, 80 kids will get an awesome summer job from this program.
Kids Day at the US Open
Each year there is a family festival as part of the tennis tournament. Activities include tennis on 14 courts, and a wide range of interactive activities for children of all ages and skill levels organized by Net Generation.
Net Generation, official youth tennis of the USTA, is a celebration of a game where no one sits on the sidelines. It's easy to learn and tailored for all ages and abilities, giving kids a game that will help them build friendships and learn skills they'll use for life. This year kids will need to watch the fun online. 
Get more information about Net Generation here.
PLAN YOUR NYC VISIT
Check out our NYC page for things to see and do in NYC and don't miss these highlights.
PIN IT!
Use Pinterest to save your favorite NYC outings. Be sure to follow our New York City board here.
Momtrends was not paid for this post.