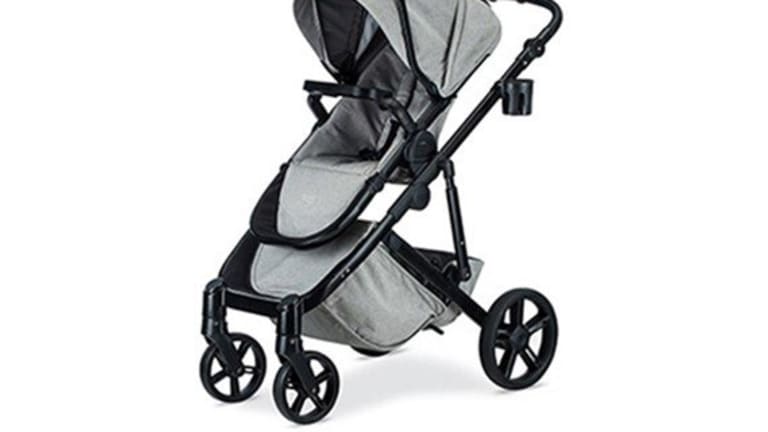 Update and Upgrade Your Britax Stroller with New Accessories
There's no doubt that buying a stroller is an investment, and one of the important features to look for in a stroller is longevity. Is it built to last years of use? Are there products to help the stroller grow with your family's changing needs? When it comes to Britax, the answer to both of those questions is a definitive "yes." Britax stroller accessories like the Stroller Board and B-READY Wheels Kit update and upgrade the B-READY for our growing family.
Related: How to stop battling with your car seat with this new product
2012 B-READY Wheel Kit
When Britax announced the new 2012 B-READY, the biggest and most obvious difference was in the wheels. The new wheels are rubber foam-filled tires that are a marked upgrade from the older model's hard plastic wheels. While we have always enjoyed the B-READY, as we noted in our original review the wheels don't allow for the most smooth ride.
The 2012 Wheels are the same size as previous models, but the rubber wheels create are a definite improvement. The stroller is easier to push, rides much smoother and handles better over all. Making the switch is simple and, as you can see in the video, literally takes less than a few minutes to change all four wheels. If you have a 2010 or 2011 B-READY, the Wheels Kit is definitely worth the investment to improve your stroller's performance.
Britax Stroller Board
One of the best things about the B-READY is its modular mix-and-match design which allows you to use a Bassinet, Infant Car Seat, Stroller Seat and / or Second Seat to best suit your needs. With the addition of the Stroller Board, the B-READY (and other strollers) can now accommodate an older child who is too old for the stroller or Second Seat, but not quite big enough to walk every where. As far as we're concerned, the Stroller Board is a must have for luxury strollers so we're excited to see this affordable option from Britax.
The Britax Stroller Board attaches to your stroller frame and rolls on 3 wheels with independent suspension. It has a three way adjustable attachment to allow it to fit many stroller frames. It's not particularly easy to attach the first time, but once the mounting brackets are on the stroller, it's very easy to hook the board onto the stroller. There's even a storage strap so you can hold the Board out of the way while on the go.
The Stroller Board is compatible with many strollers in addition to the B-READY (without Second Seat or Lower Infant Car Seat Adapter attached), including BRITAX B-AGILE, B-SCENE, B-NIMBLE, BLINK, and CHAPERONE strollers and BOB Revolution SE (single and duallie), Revolution CE, Sport Utility Stroller (single and duallie), Ironman (single and duallie), and Stroller Strides (single and duallie) strollers.
As with any Stroller Board attachment, it does hinder ease of pushing the stroller a bit. Because of the location of the wheels, however, it didn't have too much of an impact on our walking stride. The Stroller Board is available for $90.
Shop! Britax Stroller Accessories are available to upgrade and enhance your stroller's performance. The Stroller Board is available from our affiliate Amazon for $89 and the 2012 Wheels Kit is available directly from Britax for $90.
MORE BABY SCOOP FROM MOMTRENDS
PIN IT
Need more ideas on what to do with the kids? Be sure to follow our Baby Things to Love board on Pinterest here.
Thanks to Britax for pimping our ride.