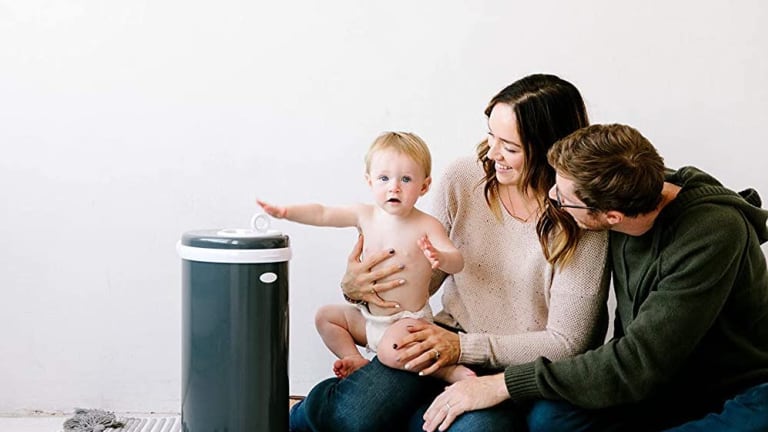 Why We Love the Ubbi Eco-Friendly Diaper Pail
Having a good diaper pail is a must among most parents and we pick this clever little design for our nursery.
Ubbi has made the world of cloth diapering even easier. Having a good diaper pail is a must among most parents. When you cloth diaper is it super important because you need to store dirty diapers for more than a day. This has become even more of a pressing issue as we only use diapers for overnight, so we are washing them less frequently. The Ubbi can be used with ANY type of diapers whether you use disposables or cloth.
Related: Momtrends Picks for Best Baby Bottles
Why We Love the Ubbi Eco-Friendly Diaper Pail
Without a proper lid, design or size, the diapers will start to smell and so will your nursery. Ubbi has a diaper pail that is quite different than any ones I have tried. I love that it is stainless steel and washes up quickly and easily. The tall oval shape makes it functional while adding a bit of sleek style to the room. No one wants to look at an ugly receptacle and Ubbi makes their diaper pail in eight bright shades so you don't have to.
In five easy steps you can set up and use your Ubbi diaper pail. It can be used with any kitchen garbage bag. The lid slides shut and keeps odors in. Even when you open it to add a dirty diaper, you don't get "hit" in the face with an overwhelming smell. The tight rubber seal also help to ensure that smells stay in the pail. It even features a child-proof locking system so curious hands don't reach in. It has a large capacity too, 11"(H) x 15"(D) x 23"(L) /(28cm (H) x 38cm (D) x 57cm (L)) so it holds a lot of cloth diapers (approximately 15-18).
The Ubbi pail is easy to load, use, empty and keep clean. The shape lets it fit into tight spaces and the design make Ubbi the only diaper pail you'll ever need.
The Ubbi diaper pail retails for $79.99 and can be purchased by clicking here.
FOR MORE MOMTRENDS MVP WINNERS, CLICK THE LINKS BELOW:
PIN IT!
Be sure to save your favorite gear for baby on Pinterest. Please follow our Gear for baby and kid board here.
Momtrends was not compensated for this post.