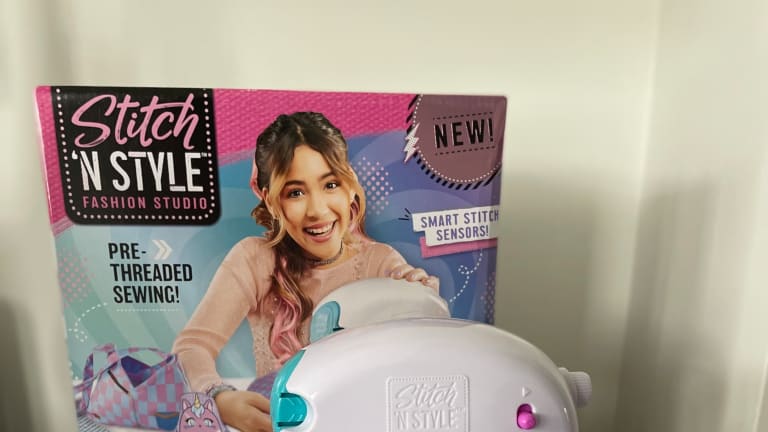 Tween Sewing Machine
The Stitch 'N Style Fashion Studio teaches kids sewing basics and includes easy to complete projects.
With the summer winding down, you may be finishing up with your vacations and camps. For those moments of downtime, we still need to make sure that our homes are stocked with creative outlets for our kids. The new Stitch 'N Style Fashion Studio by Cool Maker is a sewing machine that's perfect for tweens who want to create easy crafts and accessories.
I have a daughter who is interested in sewing. We've worked together on a few projects and she's taken a few in-studio sewing classes. This sewing machine is a perfect way for her to get creative independently.
What's included in the Stitch N Style Fashion Studio
Stitch 'N Style Fashion Studio includes everything your child (let's not leave out the boys!) will need to create oodles of craft projects that require basic sewing. The sewing machine is simple to set up and easy to master. To get the creativity flowing, the fashion design kit has a sheet of pre-printed, patterned fabric to stitch 6 accessories like a belt bag, scrunchie, sunglasses case and more.
Includes: 
Sewing machine 
one pre-threaded cartridge
one sheet of fabric
one sheet of decorative water transfer prints
one stamper
two sewing clips
Note: Batteries are required and are not included. Requires 4 AA batteries.
You'll also need a little bit of water to apply the water transfer prints and scissors to cut thread.
How to use the Stitch N Style Fashion Studio 
The sewing machine in this studio set is wonderful. It's tiny and light and easy to maneuver. We have a big old sewing machine at home, and it requires a deft touch and patience to operate, this machine is quite different. This all-in-one system includes an innovative cartridge thread system that makes sewing easy. Threading needles and feeding the bobbins into a sewing machine can be tricky. With the Stitch 'N Style Fashion Studio, you just pop in the pre-threaded cartridge and start sewing. It also comes with smart-stitch sensors that can sense the fabric under the needle. Once the fabrics is no longer under being sewn the needle will automatically stop, keeping your child's hands safe! When you are done sewing, you can customize your creations with unique prints that you magically apply with water.
The Sewing Process
I helped my daughter with the first project, the sunglass case. 

Step 1: Cutting: We started by cutting the pattern. The kit has clear lines for pattern cutting, making it easy to get started.
Step 2: Pinning: From there we used the clips to hold the fabric in place as we set up the machine. This would traditionally be where a crafter would pin the fabric.
Step 3: Sewing! Turn the machine on (you'll hear two quick beeps). Make sure the logo on the machine is facing you.  Line up your fabric and let the machine do the work. You'll move the sewing button from pause to play . Using the smart-stitch sensors it will automatically stop at the end of the fabric. Push the fabric away from you as you sew.
Step 4: Finishing. When you are done sewing your section, use the cutting tab on the sewing machine to snip the thread. This is important, doing it right will save you the work of having to re-thread the needle. Continue steps 2-4 until you are done sewing your pattern.
Step 5: Decorating: The kit included decorative decals that are applied with water. 
The instructions are easy to follow with helpful pictures. I did read through them with my daughter before she started. Now that she's got the system down, she can work independently. We did the eyeglass case first and next up will be scrunchie making.
Skip the Frustration
This sewing machine is designed to reduce frustration. Thanks to a tween-friendly design, a lot of the tricky issues are removed. It's not hard to get the thread going. With the automatic sewing sensors, it is safe for every budding fashionista. 
Taking the crafting to the next level
The Stitch 'N Style Fashion Studio works with most fabrics for the ultimate DIY project. Unleash your creativity and design your own stylish accessories! It is designed for ages 8 and up.
Purchase the on Amazon here ($34.99) (note: these are Amazon Affiliate links)
The Stitch 'N Style Fashion Studio is also available at www.walmart.com and www.Target.com
This sewing kit for kids is great for beginners. Once you complete the projects in the first set, you can order the Cool Maker, Stitch 'N Style Fashion Studio Refill ($19.99, also on Amazon).
Win it!
Here's your chance to gift the creative kids in your life a Stitch N Style Fashion Studio (value $34.99). Use the Rafflecopter entry form below for your chance to win.
This is a sponsored post.