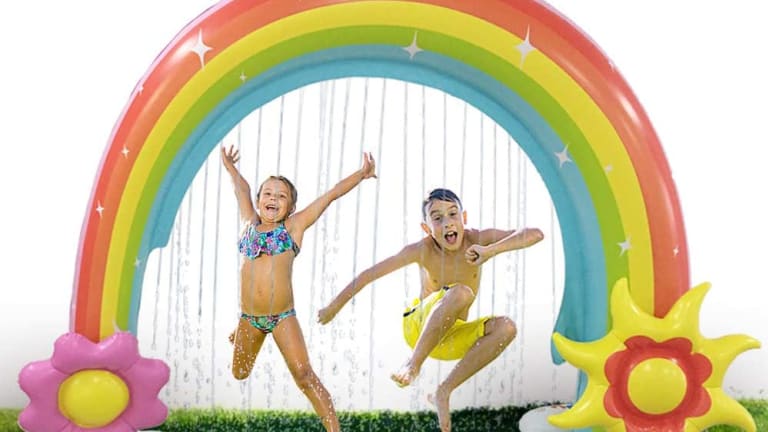 Amazing Water-Play Activities to Turn Your Backyard into a Water Park
Totally awesome backyard water toys with water parks, sprinklers, and slippery race slides for budding ninja warriors.
Water play all day! (I think I need to hashtag that!)
It's been insanely hot in New York. Sunny, stifling, sticky, and humid as H-E-Double-Hockey-Sticks.
Related: Screen free summer activity ideas for kids
And, let me just tell you, my two babies do not take well to the heat. They're flush-faced and cranky within minutes of so-called outdoor activity (and by that I mean walking from the car to the front door.)
Don't get me wrong, we love the summer. It's just that I'd just prefer to keep my kids in a pool, under a sprinkler, or inside with the AC blasting at capacity.
We're always swimming, but I like to change it up for my babies (and myself)—and that's why I'm perpetually on the hunt for fun splishy-splashy wet-and-wild water toys, games, and activities.
My four year old is currently obsessed with American Ninja Warrior—so when I spotted this water Banzai Aqua Blast obstacle course, I knew it was very necessary for my budding athlete. Not that I didn't have my hesitations—these slippery water slides have to be used with caution. But I knew my son would be very tentative and careful—unlike some of the adults who tried (eh-hem, ouch!).
Your mission, young ninja is as follows… Jump over the hurdles, skip through the tires, and slide under the pole into the (freezing cold!) pool to master the course. Challenge accepted!
I knew my little guy would prefer to be pushed along the slide and then splashed into the pool with some help from Mommy or Daddy; and the tire course was most definitely his favorite part. Surprisingly, my 18-month-old daughter waddled right over to the sprinklers and got herself soaked (there goes her fresh, dry pajamas!). She enjoyed it so much, that we even ran her through the entire obstacle course! Of course, my biggest "kid" probably liked it the most. (Husbands… Will they ever grow up?)
In terms of quality and craftsmanship, the course definitely won't last long—but the price is right for even one day of fun in the sun.
I've rounded up a few more totally awesome backyard water toys (inflatable water toys, blow-up water parks, sprinklers, and slippery race slides), ranging from $15 to $500, for budding ninja warriors… of all ages! Stay safe, stay cool, friends, and #WaterPlayAllDay!
Banzai Grand Slam Baseball Slide, $24/ 2. Banzai Backyard Adventure, $150 / 3. Wham-O Slip 'N Slide Triple Racer With 3 Boogies, $46 / 4. Blast Zone Buccaneer Inflatable Water Slide, $799/ 5. Magic Time Inflatable Arch Sprinkler, $15
MORE SUMMER FUN IDEAS FROM MOMTRENDS
PIN IT!
Need more ideas on what to do with the kids? Be sure to follow our Activities to Do with the Kids board on Pinterest here.
This is not a sponsored post. It may contain affiliate links. All opinions are our own.